SainSmart Genmitsu CNC Router 3018-PROVer Kit
Brand: SainSmart
SKU:

101-60-3018PROVER
3-Month Carveco Maker Subscription Is Included (a $45 Value). Please subscribe to our newsletter so that you can receive the FREE 3-Month Subscription Link after ordering the CNC router.
The 3018-PROVer is the latest version of the 3018 Desktop CNC DIY Kit Series. Now Pre-assembled and no fuss with assembly taking less than 15 minutes out of the box.
The 1.8" display will clearly display readouts and provide manual control of your mill without any computer. If a project gets out of hand the PROVer has an emergency stop control that is very visible and easy to access for an immediate shutdown of your machine.
Make more with the all-aluminum body and take advantage of the added stability for milling a wider range of materials while also making clean up even easier with acrylic safety baffles to help contain dust and provide a safety barrier.
Still based on open-source Grbl v1.1 the PROVer has stepped up to more powerful but silent Toshiba TB6S109 drivers with added life and performance along with added Optocouplers to protect your mainboard from hard stops without risk of damage and eliminate signal noise for more consistent projects and longevity.
*Join SainSmart Genmitsu CNC Router Facebook Group.
Note: Buyers may be responsible for paying additional import duties or taxes that apply to cross-border purchases. UK adapter not included in this CNC router.
$349.00
FREE EXPRESS SHIPPING
Efficient Pre-assembly
The 3018-PROVer is the newest addition to the Genmitsu CNC 3018 series family. This pre-assembled desktop CNC machine allows you to be up and running in 15 minutes instead of 2 hours, making it no challenge for beginners.
High Quality
Boasts an all-aluminum body with an oxide blue look, the 3018 PROVer gives you a premium look and feel for your machine.
Features
Safety Design
The 5mm acrylic baffles can block the 'flying' pieces of wood/other cutaway materials so that you can safely monitor the engraving process.
Offline Controller with 1.8" TFT LCD Display
This machine comes standard with a newly designed offline controller with 1.8" display so you can view readouts clearly and control the CNC router without connecting to a computer.
Laser Module Available
If you are an experienced CNC engraving enthusiast looking for an upgrade, you can add the matching SainSmart laser module kit to the machine. With this module, it can absolutely give you different ways to unleash your creativity.
OVERVIEW
Genmitsu 3018-PROVer is the successor to the 3018-PRO, and the new version has brought improvements to many parts, including the excellent design and safety features, pre-assembly, upgraded mainboard, etc. Whether you're a CNC beginner, a hobbyist or a small business owner looking for an enterprise-quality for commercial purposes, this is an excellent choice.
SPECIFICATIONS
Effective Engraving Area: 260 x 155 x 35mm(10.2 x 6.1 x 1.4")

Frame Size: 400 x 330 x 240mm(15.7 x 13.0 x 9.4")

Frame Material: Aluminum

Z-Axis Component Material: ABS

Spindle: 775 motor, 12V~24V, 10000 RPM;

Rated power: 60W; Maximum power: 120W

Step Motor: 1.3 A, 12V, 0.25 Nm torque (2.2 in-lb)

Drill Bits: Tip 0.1 mm, 20 degrees, Diameter 3.175 mm

Supported OS: Windows XP, Windows 7 32/64 bits, Windows 8, Windows 10, Linux, Mac OS

Software: Grbl control(Candle) 

Power Supply: 24V/4A, with CE, FCC & PSE certifications

Perfect for: Hobbyists, Crafters, Woodworkers, Industrial Designers, Educators, Engineers, Jewelers and more!
WHAT'S IN THE PACKAGE
Standard Kit
1 x 3018-PROVer CNC Router Machine (Some parts need to be assembled)

1 x Offline Control Module

1 x Tools Box

1 x Screw/ Nut Accessories Box
| | | | | | |
| --- | --- | --- | --- | --- | --- |
|   | | | | | |
| Genmitsu | 1810-PRO  | 3018-PRO  | 3018-PROVer  | 3018-PROVer Mach3 | 3018-MX3  |
| Assembly Time | 2 hours | 2 hours | 30 minutes | 30 minutes | 2 hours |
| Working Area | 180x100x45mm | 300x180x45mm | 300x180x45mm | 300x180x45mm | 300x180x45mm |
| Control Software | GrblControl(Candle) | GrblControl(Candle) | GrblControl(Candle) | Mach3/DrufelCNC | Mach3/DrufelCNC |
| Driver Chip | 4988ET | 4988ET | TB67S109 | TB67S109 | TB67S109 |
| Home and Limit switches | x | x | ✓ | ✓ | ✓ |
| Emergency-Stop | x | x | ✓ | ✓ | x |
| Z-Probe | x | x | ✓ | ✓ | ✓ |
| Acrylic Baffles | x | x | ✓ | ✓ | ✓ |
| Comes with Offline Controller? | ✓ | ✓ | ✓ | x | x |
| Switchable to Laser Module? | ✓ | ✓ | ✓ | x | ✓ |
Customer Reviews
Write a Review
Ask a Question
02/10/2021
Tye S.

Canada
01/13/2021
Neil H.

United Kingdom
Excellent service
Great customer service Would buy again
01/12/2021
Hartmut E.

Germany
01/03/2021
glenn e.

United States
3018 Prover
great product - quality level is very high - online resources are very thorough.
RT
12/29/2020
Rick T.

United States
This is a great beginner CNC machine!
I have experience with 3D printers and thought I would dip into the world of CNC. I have seen numerous articles and ads for 3018 kits, but the SainSmart 3018-PROVer Kit was highly recommended. I was not disappointed! The kit was extremely well packed and included everything I needed to get started. The manual was easy to follow and it took me less than an hour to assemble. The SainSmart website has great documentation and resources to get you started. I also highly recommend the Facebook "SainSmart Genmitsu CNC Users Group". I found much useful information there.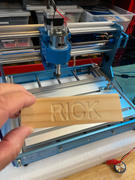 12/18/2020
Ricardo S.

Portugal
I'm very happy
Good service, fast delivery and everything arrived as expected
12/06/2020
Rangerx52

Canada
Surprisingly high quality
I'm actually very impressed. I expected questionable quality and a relative level of compromise with the unit's output- I was very mistaken.Assembly took about 30 minutes and was straightforward. Everything fit, had extra screws.The candle software it comes with is very simple, yet powerful. The offline controller is outstanding.The software to generate files was a bit trickier, which is understandable, since that's not included.As a favor to all others- I used "Inkscape", a free image editor to create dxf files from images I wanted cut out. I then imported the dxf files into "estlcam", another free (within reason) program that would then generate the gcode file, which could then either be loaded into candle for operating with a computer, or dropped directly onto the sim card for offline mode.Overall, very impressed, I like it very much.
11/28/2020
Krassen A.

Bulgaria
11/17/2020
JUSTIN L.

United States
Really great machine with great customer service!!
This is a great beginner CNC machine. Takes some time to get it dialed in correctly but once you are past the learning curve it's a lot of fun to use. It's a solid little machine too.I had an issue with the Z axis carriage but after contacting SainSmart they sent me a new one free of charge. The customer service is truly exceptional as Hong helped me out a lot and followed up to make sure that everything was good.This machine was well worth the money and perfect for what I needed.
11/16/2020
holmesteader

United Kingdom
Excellent Product from a very good company
I am very happy with this product and the excellent customer service I received when I contacted them over a minor issue which was quickly and efficiently resolved.