Save

$100.00
Lifetime customer support

15-Day Money Back Guarantee
Brand: SainSmart
SKU:

101-60-280PRO
SainSmart Genmitsu CNC Router 3018PRO DIY Kit
Save

$100.00
US Free Shipping
Upgraded Power Adapter: UL Approved and out-of-the-box support for the drop in 20,000rpm Spindle no need to modify G-code to ramp up to full speed and also supports the Genmitsu 3018 PRO Laser.
V2 CNC Control Board: GRBL 1.1F, Frosted Clear ABS Enclosure, Upgraded Drivers reduce heat and improved spindle power performance. Short Circuit Protection with Fault Indicator LED. Improved USB Port - Stronger than before. The new component layout provides higher stability performance.
Controller Software: The Genmitsu 3018-PRO uses Grbl, high-performance open-source software for controlling movement, and runs on Arduino. Its dependability and simplicity make Grbl an industry standard, so there's no lack of support and resources available when you get stuck. Includes CARVECO Maker CAM Design Software and CANDLE for controlling your machine and running your GCODE design files.
Versatile: Capable of cutting all types of plastics, soft aluminum, woods, acrylics, PVCs, and PCBs, the Genmitsu can be used on a wide range of projects and materials.
The Genmitsu CNC
Designed to deliver the best value and performance for any new Desktop CNC user, the Genmitsu is a great tool for getting started with CNC. If wood-working or DIY crafting is your hobby, you can use it to add features like curved words and exquisite patterns. If you are a student just learning CNC, it can help you engrave models that you can design with the included CARVECO Maker design software.
Versatile
The Genmitsu is capable of cutting all types of plastics, soft aluminum, woods, acrylics, PVCs, and PCBs, and a wide range of other materials. The effective engraving depth is 1.8 inches. You will find the SainSmart Genmitsu is an excellent self-teaching tool which allows you to try your DIY ideas on an inexpensive platform without the risk of damaging expensive equipment.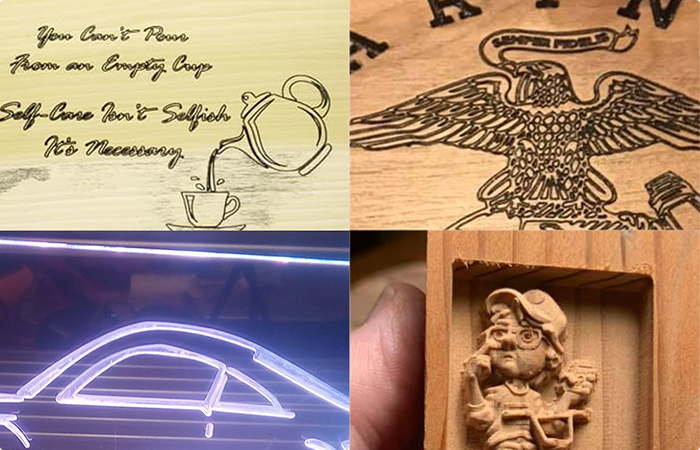 Add-on Laser, Frame Extension, and Z-Axis Module Upgrades*
If you are an experienced CNC engraving enthusiast looking for an upgrade, you can add the laser module kit to the machine as a drop-in upgrade.  Or if you need an extra working room you can add the Y-Extension and expand your work area potential.  If you need to work with harder materials upgrade your Z-Axis with the new all-metal carrier with support for larger 300w spindles..(
Laser Module
)(
Extension Kit
) ( Z-Axis Spindle Carrier*)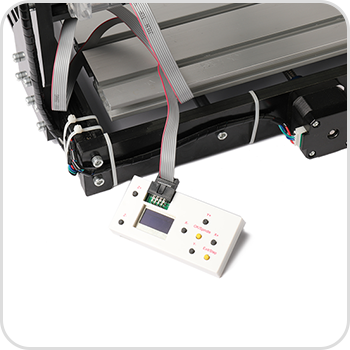 With SainSmart offline controller module, you can control the CNC router without connecting to the computer. The CNC router can be placed wherever you want, such as garage and workshop.
More reliable and safer to use. With built-in fault protection and improved driver performance, you can count on your Genmitsu 3018-PRO to last for many projects to come.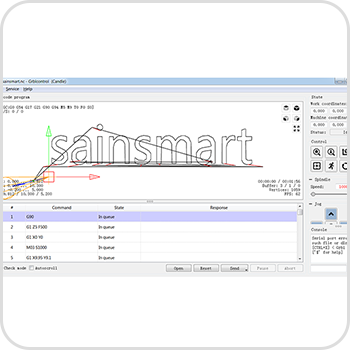 Open Source
It's built on Arduino and Grbl (both open source) support, tutorials, additional training, and new ideas to try are plentiful and easy to find elsewhere online.
SPECIFICATIONS
| | |
| --- | --- |
| Specification | |
| Work Area | 300 x 180 x 45 mm(11.8 x 7.1 x 1.8") |
| Frame Size | 400 x 330 x 240 mm(15.7 x 13.0 x 9.4") |
| Frame Material | Aluminum |
| Axis Bracket Material | PF |
| Z-Axis Component Material | Nylon |
| Spindle | 775 motor, 12V, 3000 RPM; 24V, 7000 RPM; 36V, 9000 RPM |
| Rated Power | 60W; Max 120W |
| Step Motor | 1.3 A, 12V, 0.25 Nm torque (2.2 in lb) |
| Drill Bits | Tip 0.1 mm, 20 degrees, Diameter 3.175 mm |
| Supported OS | Windows XP, Windows 7, Windows 8, Windows 10, Linux, Mac OS |
| Software | Grbl control(Candle) |
| Power Supply | 24V/4A |
| | |
| --- | --- |
| What's included | |
| 1x 3018-PRO DIY Router Kit | 1x English Manual |
| 1x Extension Rod with ER11 Collet (3.175mm) | 1x Offline Controller |
| 4x Plate Clamps | 10x CNC Router Bits (Cutting Angle: 20 Degree; Shank Diameter: 3.175mm; Tip Diameter: 0.1mm) |
| 1x Offline Controller | 1x User Manual |
| | |
| --- | --- |
| Software Links | |
| The best free GCode sender for DIY Laser Engraver. LaserGRBL is able to load and stream GCode path to arduino, as well engrave images, pictures and logo with internal conversion tool. Can click here to buy a laser module. | is a premium version of LaserGRBL which allows you powerful tools for editing, adjusting the layout and controlling your laser. LightBurn is a native application written for Windows, Mac OS, and Linux. Can click here to buy the LightBurn GCode License Key. |
| is the all-in-one software solution for 3D carving machines. Designed by Inventables, Easel is the easiest way to get started in the world of 3D carving. | Integrated CAD, CAM, & CAE software for everyone. Animation. Access Anywhere. Easy Collaboration. Try It Free. Integrated Design Tools. Next-Gen 3D CAD/CAM. Fabrication. |
Which CNC is right for you?
Customer Reviews
Write a Review
Ask a Question
06/10/2021
James M.

United States
Right machine Right price
The system is straightforward to assemble and start operations. I reviewed all directions before assembly and watched YouTube videos referenced in the instructions before starting the build. With some practice, I believe this will turn out the -product I want. I am pleasantly pleased with the durability and precision in this affordable system.
11/25/2020
e v.

United States
Instructions could be a little bit better
Instructions could be a little bit better But it works and I was able to do a practice run. Needs lots of sanding to remove the burrs but I'll figure it out. Very cool otherwise
08/25/2020
Henry S.

United States
sturdiness
Unfortunately this unit is not quite sturdy enough for my intended use in V-carve. Several problems came up using this unit. The spindle chuck was out of alignment. The problem being; the chuck and collets were poorly machined. The chuck was 3 thousands out from center and the collets were as much as 10 thousands out from center causing much vibration. Also the inner dimension of the chuck was too small causing the collets not to sit properly and causing the chuck nut not to catch more than a thread or two. Another problem; the bushings on the Z axis drive kept coming loose from the housing. I was able to overcome some of the sturdiness problems by slowing down the feed rate to 16% of normal. Another major annoyance were the work peace mounting screws. You need 3 hands to tighten the wing nuts. I solved this problem by soldering some square washers to the head of the screws. Aside from these problems, I think it is a good machine for the money. .
07/09/2020
Charlene L.

United States
what experience
Ben trying for 3 days nothing.
11/06/2019
David L.

Canada
3018 pro
So far it is great. Made some carving which have been praised. Learning quickly.
This is a Great CNC learning tool that can produce quality projects
We didn't know anything about CNC routers when my wife saw the Genmitsu CNC 3018-PRO featured as a special one-day buy on Amazon. We thought it might provide an opportunity to extend what two of our grandsons have learned from participating in Lego Robotics. After researching the machine, we decided to buy it, and see what they could do with it. The quality of the machine is excellent, and after watching a video, they had it assembled in less than 2 hours. Just running the test programs got them excited enough to know this machine was going to be a good investment in their learning. Since they had no experience with CNC, and got a little confused using some of the software recommended by experienced users. They ran into plenty of challenges before completing their first good quality original project, but learned plenty that has helped them since that time. They also ran into some computer problems caused by a 9 year old laptop that has since been replaced. They're anxious to produce projects like the ones they've seen on the internet, but they don't yet have the skills or knowledge to do that. We are pleased to see their problem solving skills improve as a result of this great little machine, Just a few days after they got the machine, we ordered the Offline Controller and the laser kit for this machine from www.sainsmart.com. I think the manuals could be better, but the boys seem to be used to the style because of all the Lego models they've assembled. We've received good help from SainSmart's customer support, and our grandsons have found plenty of helpful videos on YouTube. They've also found the SainSmart wiki page, and SainSmart Genmitsu CNC Router Facebook Group to be helpful resources. We are glad we took the chance to make this purchase.
Excellent hardware
Assembly was quite easy, and the build is very solid when done. Engraving (with the recommended Candle software, albeit not with the offline controller) worked well, as did laser engraving when I tried that upgrade. My only complaint about the kit hardware is that a mixed bit collection would have been much more useful than 10 of the same V bit, but additional bits are cheap. The documentation and software learning curve leave much more to be desired. Still 5 stars for anyone who takes the "DIY" in the title seriously, but bear in mind that the effort you have to put in here doesn't end when the assembly does.
New 3018 PRO
The assembly was easy, even for a man that can use only one arm. All the parts fit together like a dream. I have not carved anything as I'll still in the process of learning to program CNC. I intent to try using EASEL for my programming as I plan to use it for making crafts. All together it is a quality product, well worth the money I spent.
First Time CNC User
I have never used a CNC router machine before and wasn't sure what to expect in complicity of use. My etching needs are small, so this small volume/footprint machine was a perfect solution, especially given its low cost. It took me a little time to get used to the GRBLControl software, which comes with the machine (e.g., setting up home and depth - Z-axis). But after a couple of tries I was making cool etchings that came with the software. I just need to figure out how to make my own G-code files now. I highly recommend this machine for beginners or those who don't need a large volume to work with. Great for making cool crafts!