Save

$300.00
Brand: Genmitsu
SKU:

101-60-FBLZ5-AJ
Z5-1 Fiber Laser Machine, 4K Marking Resolution, Fast Metal Marking
Save

$300.00
Genmitsu Z5-1 Fiber
Laser Engraver
Engraving
Accuracy
0.001mm
Marking Speed
10,000mm/s
2W Fiber Laser
Live Engrave Preview
One Click Repeat Marking
Safety Protection
Electric lift
Engraving
Accuracy
0.001mm
Engraving Accuracy
0.001mm
Marking Speed
10,000mm/s
One Click Repeat
Marking
2W Fiber Laser
2W Fiber Laser
Live Engrave Preview
Marking Speed
10,000mm/s
One Click Repeat Marking
Live Engrave
Preview
Safety Protection
Free Safety
Accessories
Electric lift
Electric lift
Perfect for Texturing & Marking
Operating on the 1064 nm wavelength the Z5-1 can process all types of metal (from tin to titanium) and a wide range of plastics with clear high contrast marks not burns. . Add a professional touch to your products and projects without damaging the surface of your goods. Breaking the material limitation of other laser engravers, and no damage to the materials.
High Precision and Marking Efficiency
Z5-1 helps to perfect image reproduction with up to incredibly fast marking speeds and down to a 0.001mm engraving accuracy creates stunning 4K images and crisp lines. Easy 2-Dot IR Focus, Simply raise or lower your Laser till the Focus dot beams become one for quick and easy focusing.
Marking Speed

10,000mm/s

Engraving Accuracy

0.001mm
Red Light Preview Mode
Position and Mark with less guessing. Trace Outline will show you the exact path the laser will travel, this is perfect when working in Vector design mode. When recreating images, you can preview the work area outline.
Faster Marking Speed
Z5-1 VS other blue light laser engraver, using the same settings: 100% laser power output and 90% laser speed.
Metal
Sheet
70% Faster
Z5-1 Finished in 30s
Proceed to 28% in 30s
More Features
Three Modes

Desktop, handheld, and reverse mode selectable. Easy to cope with different items in different scenes.

Long Lifespan Laser

Average 100,000-hour lifespan and maintenance free. Buy and save from care.

One Click Repeat

Efficient Batch Engraving With Adjustable Positioning Fixture. Began your small-business from this button.

Electric Lift

Electric lift, easy to operate and more accurate focus.

Safety Protection

We care about your safety and equip you with movable laser protection shield and goggle.

Free Scratch Art Paper

Two free scratch art paper to make your laser work colorful and impressive.
Specifications
Material:

High Strength Anodized Aluminum

Laser Focus:

Dual Red Dot Motorized Focusing

Laser Head:

1064 nm Fiber Laser

Laser Power:

≥ 2W (FDA Certificated)

Max Speed:

10,000mm/s

Suggest Marking Speed:

100-400mm/s

Connecting Interfaces:

Type-C Port for PC

Support OS:

Windows

File Formats:

JPEG/BMP/GIF/PLT/PNG/DXF

Power Supply:

12V/10A
Cooling:

Forced Air Cooling

Engraving Area:

7cm×7cm (2.76"×2.76")

Engraving Accuracy:

0.001mm

Suggest Engraving Materials:

Metal, Opaque Plastic, Materials with Lacquered Finish

Laser Unit Size:

190×286×313mm (7.48"×11.26"×12.32")

Package Size:

55×32.5×18cm (21.65"×12.80"×7.09")

Machine Weight:

4.32kg

Package Weight:

5.9kg
What is in the box?
1x Laser Module
1x Electric Lifting Stand
1x Baseboard
1x Positioning Plate
1x Fixing Knob
1x Handheld Support Module With Air Fan
1x Acrylic Laser Protective Shield
1x DC 12V/10A Power Supply
1x USB Drive
1x 500mm Length USB Cable For Electric Lifting Stand
1x 1500mm Length USB Cable For PC
1x Goggles
2x Scratch Art Paper, Test Cards, Draft Pieces
1x Screw sets, Allen Wrench, Marker Pen, Brush
1x User Manual
Customer Reviews
Write a Review
Ask a Question
09/02/2023
Robert S.

United States
Awesome machine!
The software that came with it will take a learning curve but from reading the manual there is huge amount of things to make a task easy and setup quickly. Editing and creating is simple. This laser is incredibly fast! A line of text about 20 letters about 1/8 in tall with infill took about 3 seconds. I did one of the sample pictures and that took about a minute for 2 in square. I can't wait to see what else I can do with this machine!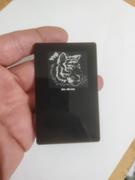 Easy to use and set up.
This machine feels and looks like good quality. It is very easy to use. The software is also easy to use. I have seen a lot of reviews saying the software is difficult to use. This is not true. If you are smart, It is very easy to use and set up. Pro tip: Take the lens cap off. It is the same color as the machine and will not laser engrave anything if you leave it on .
Powerful unit for 2watt galvo. Works great. Software is the downside.
This is an amazing product. I was blown away comparing it to my x20 diode laser. High detail fast etching. Im not able to get it to etch wood just yet if capable. But great product. Things id love to see improvement on this or next model. External controller to connect to a phone app. Mac support Ability to use battery pack with a sd card or memory to make it just a little more handheld . Easy improvement would be a perameter table with all different types of materials. Its be great to have a picture of expected result and what settings to choose. The manual has some but its limited. Id love the etch range to be 100x100 vs 70x70 The software is where this seems to fall off big time but its better than the competetors by having it translated and mostly working as ive had it crash a few times. Lastly a grid should be etched on the cutplate so we know exactly where it can and cant etch. Pipe dream. A camera built in so you can timelapse and do augmented reality in the app so you can line up etching 100% and the ability to replace fans with wuieter ones. Its not too loud but its noticeable makingbit modular would be game changing.