Genmitsu PROVerXL 4030 CNC Router with Carveco Maker Subscription
SKU:

101-60-4030prover
The Genmitsu PROVerXL 4030 Benchtop CNC machine is a new class of easy to assemble and ready to go kits. It's great for an endless variety of cutting, drilling, and carving operations on a variety of materials including wood, MDF, plastics, foams, vinyl, and aluminum.
Take your creativity to the next level working with REAL materials and the Genmitsu PROverXL 4030 Desktop CNC.
*Please do not update the firmware, it will make the control board operate incorrectly.
*This product is excluded from all promotions and discount codes.
Bigger and Sturdier
Get serious about milling without the headache. The new Genmitsu Benchtop CNC machine gives you more power, larger work areas than the 3018 desktop CNC machines.
Not only is it larger it also features a completely redesigned control box and drive system, beefy C-BEAM frame, precision NEMA 23 stepper motors, high Power Spindle and adapter for a drop in Dewalt DWP611 upgrade.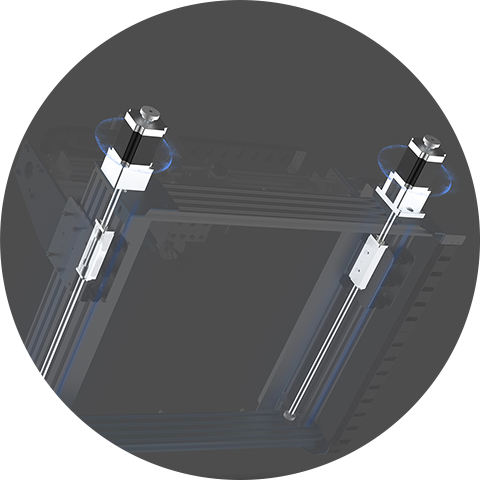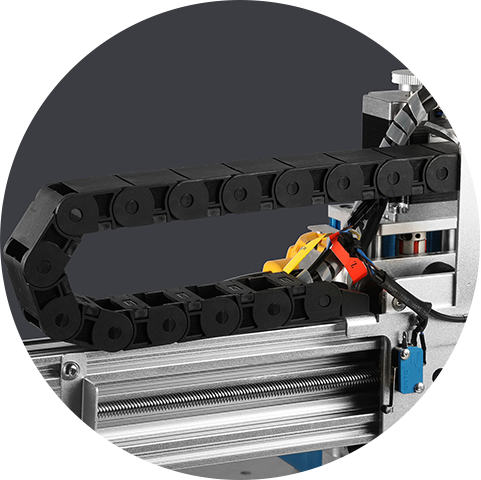 Easy to Set Up
The pre-assembled module of X, Y, Z axis and wires dramatically reduces effort of assembly, allowing you to start carving your projects in less time. Bundled with CARVECO MAKER (12-Month, a $180 value), easily create your next project.
(12-Month, a $180 value)
Precison and Performance
Rigid C-Beam structure, Leadscrew Driven, Y-axis Dual screw drive, Z-Axis Optical Axis Drive deliver more stability than the traditional v-slot drive. It's ideal for an endless variety of cutting, drilling, and carving operations on various materials including wood, MDF, plastics, foams, vinyl, and aluminum.
Redesigned Control Box
Compact and simple design that integrates easy to access buttons for boot, emergency stop, motor speed control, unlocking and pausing your machine. The PROVerXL control box's easy cable management provides an organized solution that makes cleanup easy. Still based on high performance open-source Grbl V1.1 software.
Easy to Upgrade
Although our standard spindle (DC 24V 300W) can already meet the requirements of most projects, the PROVerXL 4030 CNC kit still comes with an additional spindle holder for broader use, compatible with DeWalt DWP611. The C-Beam Structure makes it easy to configure for larger size work areas with simple upgrade kits as future upgrades. (Coming Soon*)
No Additional Parts Required
Everything you need out of the box, no stripped down kits or add-ons, the Genmitsu PROVerXL 4030 CNC router already includes all of the accessories and components you need at an affordable price, including X, Y, Z axis limit switches, emergency stop switches, speed control, Z-probe and more.
Built to suit your needs
The PROVerXL 4030 CNC platform is just the beginning, if you are looking for an even larger machine get the upgrade kit available in 2 additional sizes 600 x 600mm (24"x 24"), and up to 1000 x 1000mm (40" x 40"). Equip your machine with High Powered Laser Modules with up to 15W of true power output. Evolve with your CNC, upgrade as you go, or start big and get to making MORE. All these upgrade parts will come soon!
Specification
Working area
400 x 300 x 110mm (15.75 x 11.81 x 4.33 inch)
Frame
C Beam Structure and Linear Rails
Control Board Compatibility
Extra Mount
Aluminum DeWalt DWP611 Mount (DWP611 router not included)
Accuracy
0.01mm (0.000393701 inch)
CAM Software
Candle, Carveco Maker, Easel
Homing Switches
X, Y, Z Limit Switches + ESTOP
Leadscrew Size
X-658mm , Y-528mm, Z-208mm
Leadscrew Type
T10 2mm pitch, 5mm lead 5 start acme leadscrew
Overall Machine Size
641 x 755.5 x 580mm (25.23 x 29.74 x 22.83 inch)
Controller Box Size
400 x 200 x 60.7mm (15.75 x 7.87 x 2.39 inch)
What's in the package?
1 x Genmitsu PROVerXL 4030 CNC Router (Some parts need to be assembled)
1 x Pre-Installed 300W Spindle
1 x Controller Box
1 x MDF Spoil Board
1 x Aluminum DeWalt DWP611 Mount (DWP611 router not included)
10 x Nano Blue Coat Bits (1/8" Shank, Cutting Edge Diameter 0.8-3.0mm)
10 x Engraving Bits (1/8" Shank, Cutting Edge Diameter 0.2mm, 30 Degrees)
4 x Clamps
1 x Screw/Nut Accessories Box
VIDEO
Take your creativity to the next level working with REAL materials and the Genmitsu PROverXL 4030 Desktop CNC. You don't have to limit your projects or your imagination.
Customer Reviews
Write a Review
Ask a Question
01/08/2021
bill u.
United States
Excellent Machine
This is my first CNC router. It's a really well built machine. I have a lot to learn, but I'm very happy with my purchase. I contacted SainSmart customer support a couple of times to check on my order and I was pleased with their quick response and they followed up to make sure I was satisfied. It's been a very good customer experience for me so far.
01/06/2021
valerijs s.
Canada
Genmitsu PROVerXL 4030
Станок отличного качества исполнения. Начну работать сделаю большой обзор.Всего вам хорошего С Новым Годом !
12/29/2020
Stephen R.
United Kingdom
First CNC machine
Machine arrved on time and was easy to assemble. The manual was easy to follow but also used youtube. The test piece produced was very good quality. I have had a problem with the Z probe not working - emailed Sainsmart yesterday waiting on reply. Overall very pleased with the quality of build and ease of operation.
DR
12/19/2020
Denis R.
France
Unboxing and first cut with PROverXL 4030
First of all, I bought this model after using using a smaller 3018CNC since one year. My first impression is robustness. No more bakelite part but instead full metal piece part. The assembly has been quite fast , thanks to documentation , in less that the afternoon. I've spent more time to clean my room where I have installed the PROverXL CNC. I was already using Grbl (candle) , so I jumped directly to the first trial .... without any bit. The speed and acceleration are really effective. Now after this check I am using a flat end bit for a cut using a Gcode file that is available. Many thanks , It works perfectly.
11/24/2020
Ryan .
United States
leveled up like whoaaa
like other users here I came from a 3018 and similar units, all of which have I have pushed to their absolute limit (aka destroyed). this machine is quite simply in another class altogether. I wanted a better grbl machine that I could swap in for my 3018 and this machine literally plugged right in worked the first time after setting up in easel. fairly easy to put together, aside from some quirks and issues with the instructions, which is entirely part of the game with these machines. here are the idiosyncrasies I came across. - the manual tells you to "install" the couplings on the lead screws before you install the motors and motor mount. this can misleading because what you want to do is only slide the coupler on to the lead screw, then install the motor assembly, position the coupler, then lock down the coupler with its set screws/collar. don't "install" the coupler straight away on the screw or it probably won't be in the right position once you actually install the stepper motor. - my frame needed adjustment to be square and sit flat. find a perfectly flat surface, loosen all the frame bolts and settle the frame down to the surface, square it and the retighten everything. the manual mentions some of this. - even after adjusting the frame I still had one small bolt/hole alignment issue where the cable track attaches to the frame. I had to use a clamp to pull it into alignment. - some of the limit switch cables came stuffed way up inside the cable track, requiring me to fish them out with various tools. in the process I stupidly broke one of the limit switch wire connectors and had to put it back on, which wasn't fun at the very end of the build. totally my fault but just be aware that the cable ends may be hidden way up in the track, and should be pulled through with care. overall could not be happier with this machine!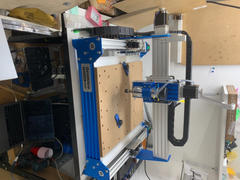 AT
11/20/2020
Anthony T.
United States
Great machine with just a few assembly hiccups
I'm really excited to use the 4030 and it just look amazing, but mine unfortunately came with a few missing parts. Fortunately, Sainsmart has great customer support and is sending me the appropriate parts, but I would have really liked to have had this ready out of the box. Regardless, it's a great entry level machine with great capabilities and I'm sure as these get manufactured more that they will get more efficient!
cnc router
The package arrived very quickly, I must see that everything is fine, in a few days I will be assembling the machine and I will update this review, I will give more details and photos. Thank you.
11/05/2020
TONY T.
United States
Very nice!
Assembly is very easy. The machine has a good look and is a great size.
10/05/2020
Andy B.
United States
09/16/2020
Marek O.
United States
Game Changer!
I just received my PROVerXL 4030 this week. It is very well constructed with robust components that were easy to assemble. It fired right up and I was carving in no time. I was using a 3018 before, and there is simply no comparison in the performance of this machine. I can't wait to see the upgrades and accessories when they are available. I think this machine is very fairly priced for the quality of the components and the overall performance!
Semi-Assembled
Semi-Assembled
Working Area
400 x 300 x 110mm
(15.7 x 11.8 x 4.3in)
Working Area
300 x 180 x 45mm
(11.8 x 7.1 x 1.7in)
Structure
C Beam Structure and Linear Rails
Support Offline Control
Support Offline Control
Home and Limit switches
Home and Limit switches
Cable Management
Cable Management
MDF Spoil Board
MDF Spoil Board
DeWalt DWP611 Mount For Broader Use
DeWalt DWP611 Mount For Broader Use
Support Upgrading to Larger Size
Support Upgrading to Larger Size
Free Milling Bits Supplied
Free Milling Bits Supplied
Spindle Motor
775 motor, 12V~24V, 10000 RPM
Step Motor
1.3 A, 12V, 0.25 Nm torque (2.2 in-lb)