Save

$60.00
Brand: SainSmart
SKU:

101-60-280PRO-EB*SEC
[Open Box] SainSmart Genmitsu CNC Router 3018-PRO DIY Kit
SKU:

101-60-280PRO-EB*SEC
Save

$60.00
Free Shipping
Genmitsu CNC Router PRO is an upgraded version of Genmitsu CNC Router. All components do not need to be positioned, which greatly reduces the difficulty of assembly and improves the working accuracy. Moreover, the base height is raised to 4cm for a better stability.
With an integrated mainboard and custom software, communication between the software and hardware is seamless by design.
Assembly instructions are provided, but if you get stuck, check out the SainSmart wiki page or contact us with any questions that arise.
*Join SainSmart Genmitsu CNC Router Facebook Group.
Please check the necessary options first
I agree to the item is not eligible for exchange or return.
Ship to USA only. Final Sale. 6-month Warranty. Details
The Genmitsu CNC
Designed to deliver the best value and performance for any new Desktop CNC user, the Genmitsu is a great tool for getting started with CNC. If wood-working or DIY crafting is your hobby, you can use it to add features like curved words and exquisite patterns. If you are a student just learning CNC, it can help you engrave models that you can design with the included CARVECO Maker design software.
Versatile
The Genmitsu is capable of cutting all types of plastics, soft aluminum, woods, acrylics, PVCs, and PCBs, and a wide range of other materials. The effective engraving depth is 1.8 inches. You will find the SainSmart Genmitsu is an excellent self-teaching tool which allows you to try your DIY ideas on an inexpensive platform without the risk of damaging expensive equipment.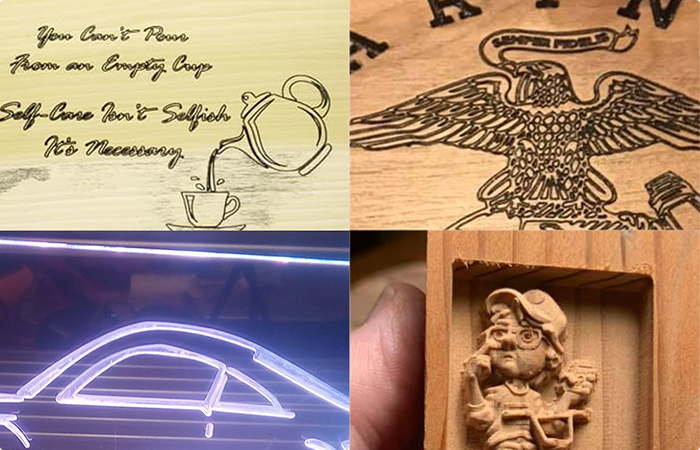 Add-on Laser, Frame Extension, and Z-Axis Module Upgrades*
If you are an experienced CNC engraving enthusiast looking for an upgrade, you can add the laser module kit to the machine as a drop-in upgrade.  Or if you need an extra working room you can add the Y-Extension and expand your work area potential.  If you need to work with harder materials upgrade your Z-Axis with the new all-metal carrier with support for larger 300w spindles..(
Laser Module
)(
Extension Kit
) ( Z-Axis Spindle Carrier*)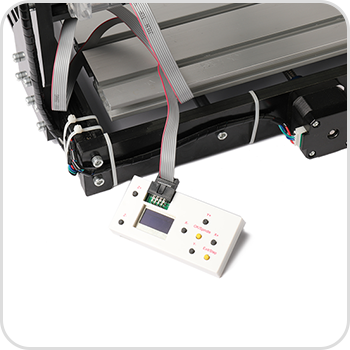 With SainSmart offline controller module, you can control the CNC router without connecting to the computer. The CNC router can be placed wherever you want, such as garage and workshop.
More reliable and safer to use. With built-in fault protection and improved driver performance, you can count on your Genmitsu 3018-PRO to last for many projects to come.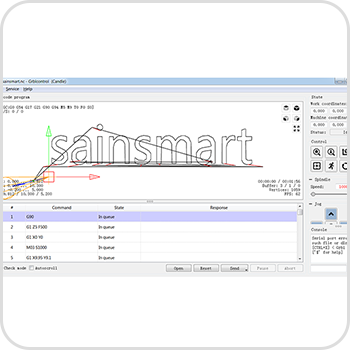 Open Source
It's built on Arduino and Grbl (both open source) support, tutorials, additional training, and new ideas to try are plentiful and easy to find elsewhere online.
Learn
Software Links

LaserGRBL The best free GCode sender for DIY Laser Engraver. LaserGRBL is able to load and stream GCode path to arduino, as well engrave images, pictures and logo with internal conversion tool. Can click here to buy a laser module.

LightBurn is a premium version of LaserGRBL which allows you powerful tools for editing, adjusting the layout and controlling your laser. LightBurn is a native application written for Windows, Mac OS, and Linux. Can click here to buy the LightBurn GCode License Key.

Easel is the all-in-one software solution for 3D carving machines. Designed by Inventables, Easel is the easiest way to get started in the world of 3D carving.

Fusion 360 Integrated CAD, CAM, & CAE software for everyone. Animation. Access Anywhere. Easy Collaboration. Try It Free. Integrated Design Tools. Next-Gen 3D CAD/CAM. Fabrication.