Brand: SainSmart
SKU:

101-90-640LW
LW PLA Filament 1.75mm, White, 1KG, Lightweight Low-Density Active Foaming for 3D Print RC Planes Drone Parts
Reduced Weight

2X 3D Prints with One Spool

Unlimited Customization

Smooth Finish & Paint Friendly:

Perfect Materials for RC Planes
Recommended 3D Printer Creality Ender-3 S1 Pro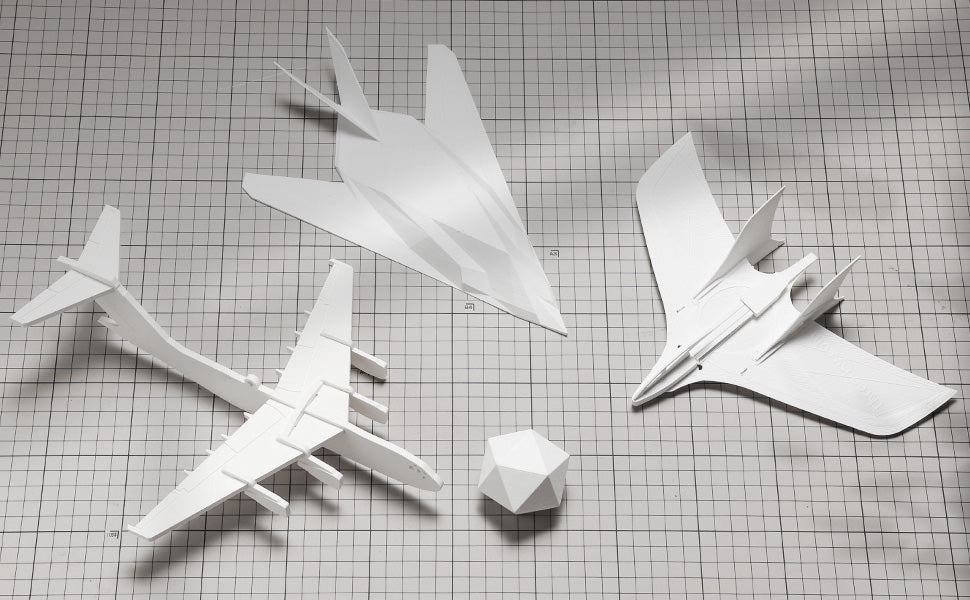 SainSmart LW-PLA (Lightweight PLA) is a 3d printing material specially developed for aeromodelling drones and cosplay. Compared with regular PLA Filament, printing with the LW-PLA Filament delivers a lighter wing load and a lower stall speed to your aircraft models. With a better balance between strength and weight, it also brings better performance to your models.

The expanding property of this PLA Filament allows for excellent layer bonding, better drop resistance and repairability. In combination with the low density feature, making this filament a perfect option for RC Planes, Drones Parts and Cosplay Models.
Light Weight
With active foaming technology, this LW-PLA filament delivers low-density and light weight parts.Designed with active foaming technology, the SainSmart LW PLA Filament density of 0.54g/cm3,means a huge weight reduction to your printed parts, perfect for stuff like rc planes and drones. The reduced weight enables lower wing loads and stall speed, allowing for overall better performance.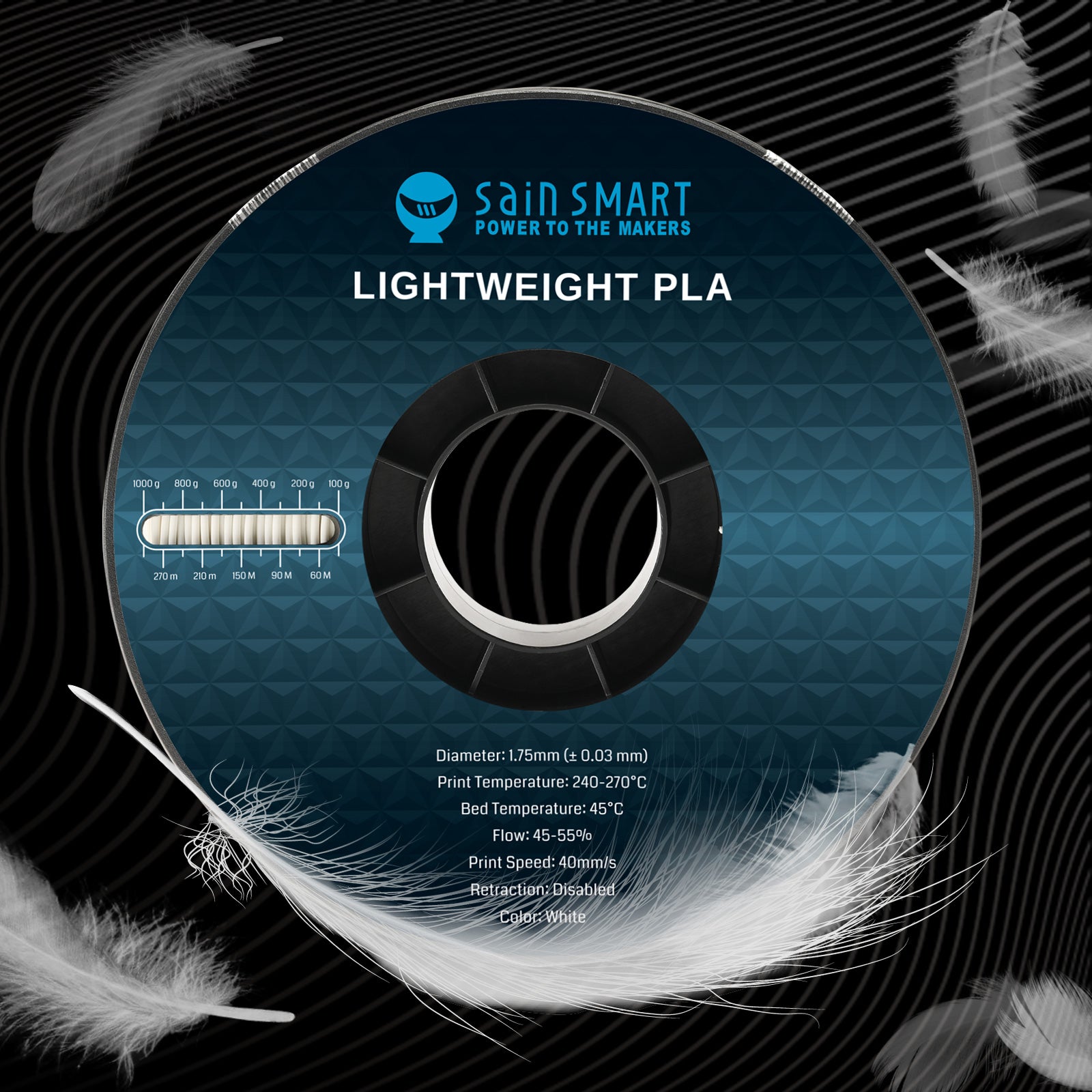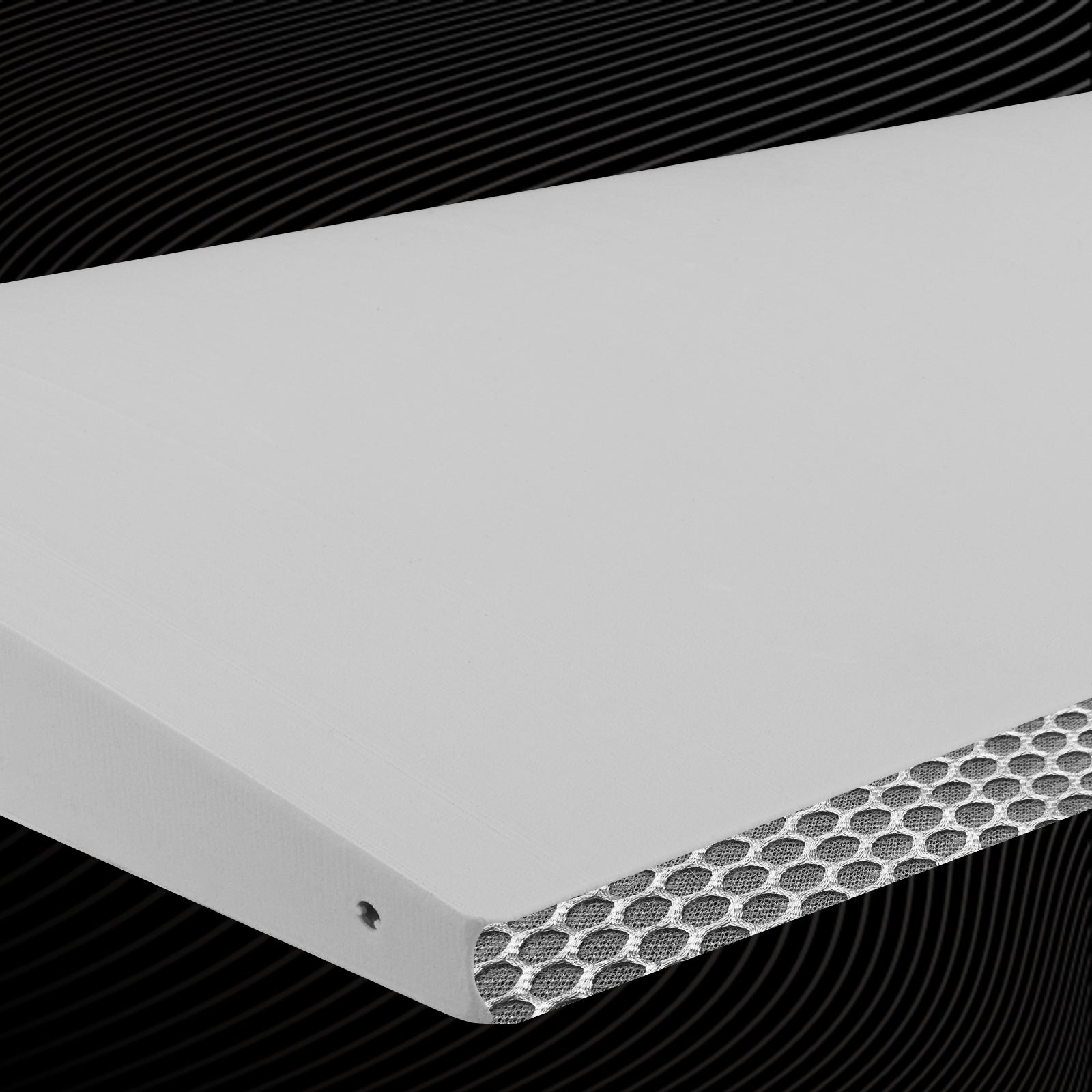 Active Foaming
The foaming expansion of this LW PLA filament makes it possible for you to print at up to 2X Material flow,the maximum foaming rate of this LW-PLA filament is 220%, which means when printing models of the same volume, 1 roll of LW-PLA can be used as 2.2 rolls of ordinary PLA, so that you can print more with less material. One LW PLA roll equals up to 2.2 ordinary pla rolls.
Smooth Finish
Models printed with this LW PLA filament has a smooth matte surface with minimum layer lines. The improved paint adhesion also sets no limit on your creativity. The foaming feature of it also makes it possible for almost invisible layer lines and a smooth matte finish.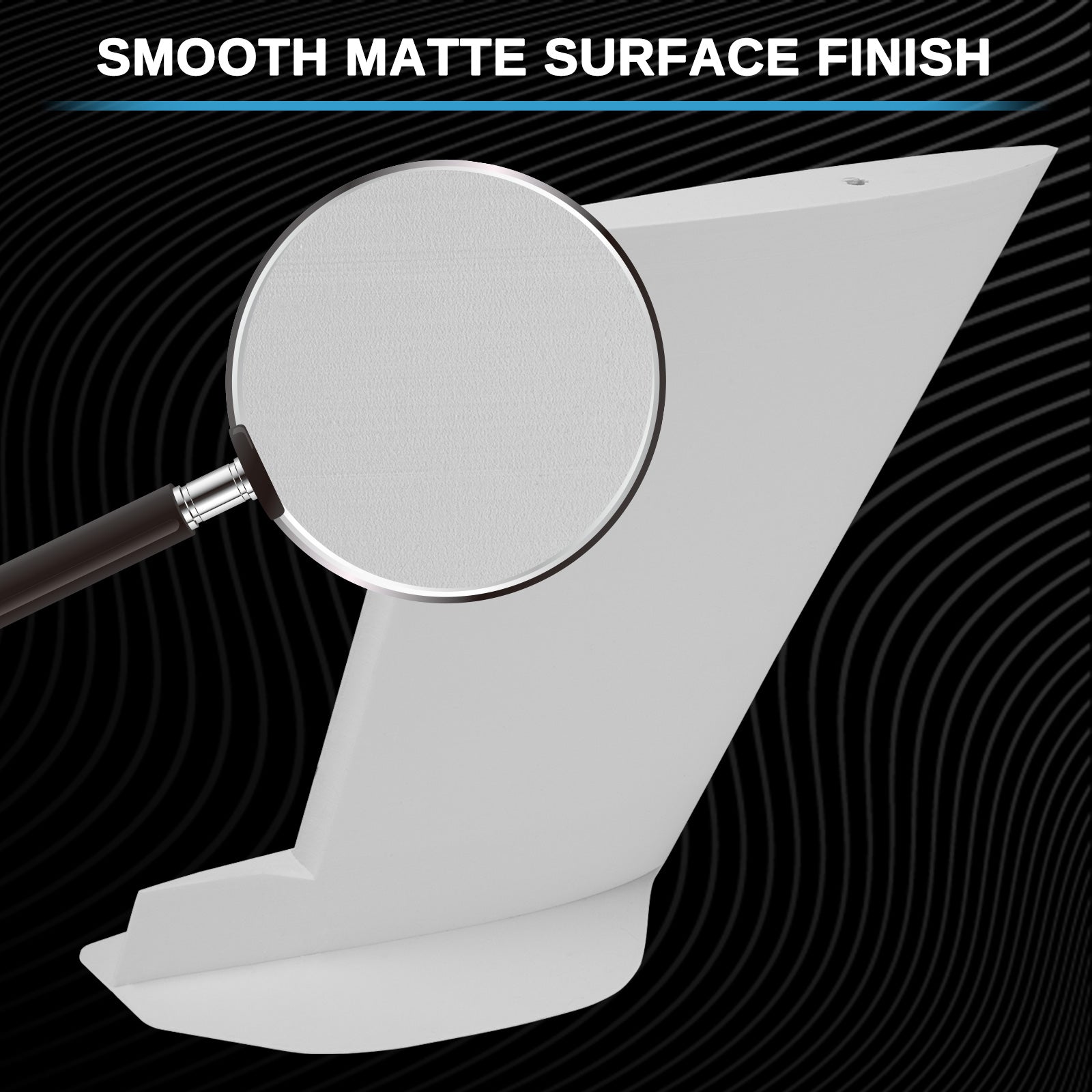 The LW PLA filament will start expanding with certain printing temperatures above 210 ℃. By adjusting the printing temperature, speed and flow during your print, you can customize the expansion effect by using different temperatures and speeds in a section on a model for varied density.

LW-PLA has a more stable interlayer bonding, and the expanding rate, density and strength of which can be controlled by adjusting the printing temperature.
Printing Tips:
The initial layer print speed and extrusion rate should be the same as print speed and extrusion rate settings, changes in print speed will also change the expansion rate of this material and cause layer lines. If the prints stick too firm to the build plate and unable to remove. please consider adding a raft.
Pay attention to the maximum operating temperature of your 3d printer, most 3d printers with Teflon Heatbreak tube cannot run above 250 ℃ for a long time, or melting and blockage may occur. If you need to print above 250 ℃ constantly, we recommend you use high-temp Full Metal Hotend 3d printer.
It is normal for Highly expanded prints to yellow. To reduce this effect, reduce expansion and print at lower temps.
LW-PLA will continue to foam in the melt zone of the nozzle, so retraction does not work in this circumstance, and your 3d printer will continue to print even when the extruder crosses an empty space and cause stringing. We recommend you print in vase mode.
Printing temperature, speed, and nozzle melt zone size will all affect the foaming ratio, so you need to adjust the wall thickness, extrusion rate, temperature, speed, and other settings according to your models and printers.
Curaprofile for Ender-3 Pro, click here to download.
RELATIONSHIP BETWEEN TEMPERATURE AND FOAMING RATE
Temp / ℃
200
210
220
230
240
250
260
270
280
Volume Expansion Rate / %
100
100
111
133
182
200
222
222
182
Extrusion Rate / %
100
100
90
75
55
50
45
45
55
Density / g/cm3
1.2
1.2
1.08
0.9
0.66
0.6
0.54
0.54
0.66
Speed
40mm/s
SainSmart LW PLA v.s. Other LW PLA
| Filament | Other LW PLA | SainSmart LW PLA |
| --- | --- | --- |
| Foaming Status | Pre-Foamed | Foaming while Printing |
| Layer Bonding | Weak | Strong |
| Density | 0.7 | 0.54 |
| Adjustable Strength With Temp | Not Supported | Yes |