Brand: SainSmart
SKU:

101-91F-CRT
Creality CR Touch Auto Leveling Kit for FDM 3D Printer
Drop In Auto Leveling Upgrade: CR-Touch is the latest auto leveling upgrade kit developed by Creality. Featuring Precision, stability and reduced cost, the CR-Touch is a great option for leveling kit.
Durable Metal Push-Pin: A plastic push-pin tends to degrade and requires replacement from time to time, the new CR-Touch uses a metal push-pin, allowing for longer service time.
Easy Calibration: Instead of leveling the bed manually yourself, the CR-Touch gathers the bed deviation data by touching multiple points in the bed and compensating for them accordingly,allowing for hassle-free bed leveling.
Wide Compatibility: With 3 different types of bracket, this CR-Touch bed leveling upgrade kit is compatible with Creality Ender 3 V2, Ender 3, Ender 3 Pro, Ender 3S, Ender 3 MAX, Ender 5, Ender 5 Pro and CR-10. (Note: Only compatible with printers with 32-Bit V4.2.2/V4.2.7 Board). In addition, the CR-Touch works flawlessly on any bed surface regardless of surface type or material.
Effortless Installation and Upgrade: The new CR-Touch upgrade kit shares the same firmware with the BL-Touch, corresponding firmware can be downloaded from Creality Support Center.
What is CR Touch?
CR Touch, Which is specifically designed for 3D printer Auto bed leveling sensor by CREALITY Company.
CR Touch is upgraded to a metal probe, which reduces wear and tear and greatly prolongs its service life.
Then copy it to the TF/SD card. Insert it directly into the card slot of the 3D printer. The program can be updated after power on.
Wide Compatibility :
✔Ender Series: Ender-3/Ender-3 pro/Ender-3 V2/Ender-3 MAX/Ender-5/Ender-5 pro
✔CR Series: CR-10
✔Only applies to 3D printers with a 32-bit 4.2.2/4.2.7 motherboard.
Important: This CR touch doesn't work for the 8-bit mainboard, Please make clear what version of your mainboard is before purchasing.
Drop-In Auto Leveling Upgrade
CR-Touch is Creality's latest self-developed auto-leveling upgrade kit. Sharing the same firmware as the popular BL-Touch Kit, the CR-Touch is easy to install and configure.
Precise Auto Bed Leveling
With a tolerance ≤ of 0.04, the CR-Touch delivers precise and consistent leveling results to make 3D Printing easier for you.
Improved Design
CR-Touch chooses a metal push-pin over a plastic one for its better wear-resistance and heat-resistance, ensuring a longer lifespan. In addition, with the hidden spring design, losing spring will no longer be an issue.
Wide Surface Compatibility
The CR-Touch Kit is compatible with any bed surface regardless of surface type or material.
Firmware can be downloaded from Creality Official Website (www.creality.com/download).
Package Include:

CR Touch *1   Bracket*3   Cable*1   Tie*4    Screws*4      Manual*1
NEW Creality CR-Touch vs BL-Touch Sensor
BL Touch is an auto-leveling sensor for 3D Printers that can precisely measure the tilt of the Bed surface and automatically adjust
CR Touch which is specifically designed for 3d printer Auto Bed leveling sensor by CREALITY, compared with the traditional automatic leveling, is compatible with more 3D printer platforms more stable, and cost-effective.
Inside of CR Touch is a small PCB with an electro-magnetically controlled metal probe. The sensing function is via a light-triggered "Hall Effect" switch with a Normally Open design.
Parameter comparison:

How to Install?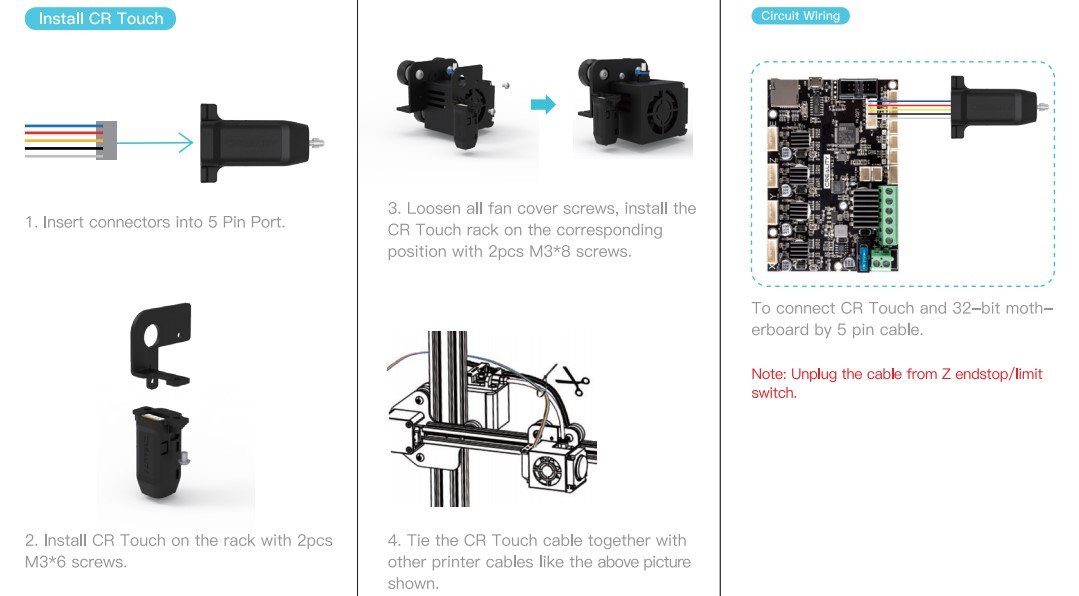 Customer Reviews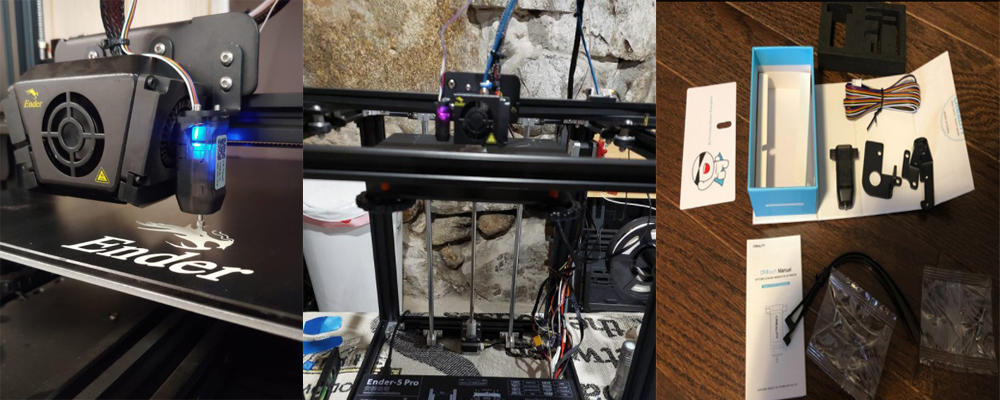 CR Touch Auto Leveling Kit Installation Guide