Save

$150.00
Lifetime customer support

15-Day Money Back Guarantee
Brand: SainSmart
SKU:

101-60-380MX3*SEC
[Open Box] Genmitsu 3018-MX3 CNC Router, Mach-3 Support
Save

$150.00
US Free Shipping
MX3 is a build-it-yourself desktop CNC router that fits all your engraving needs. MX3 is also only desktop CNC to learn professional CNC software MACH3. Whether you are a hobbyist or looking to become a professional machinist, MX3 is the perfect platform to get started.
Please check the necessary options first
I agree to the item is not eligible for exchange or return.
Ship to USA only. Final Sale. 6-month Warranty. Details
Compatible with Mach3
MACH3 is professional software that can turn a PC into a CNC machine controller. Genmitsu 3018-MX3 is the only budget-friendly and home CNC alternative to high-end industrial machines that allows you to learn MACH3 software and grow your CNC skills (MX3 also compatible with DrufelCNC, a free software. 
(MX3 is also compatible with DrufelCNC, a free software.You can also switch to our PROVer controller board if you want to use GRBL software with MX3)
Versatile
With its powerful 9000 RPM spindle and sturdy frame, MX3 can easily carve through wood, plastic, PVBs, PCBs, acrylics, and soft aluminum. The open design with an effective engraving area of 260 x 155 x 35mm(10.2 x 6.1 x 1.4") allows you to work on even larger pieces with less limits.
Safety-driven Design
MX3 features two 5mm acrylic baffles on each side of the machine so that you can safely monitor the engraving process. Each axis is equipped with a limit/home switch that stops the tool spindle from leaving the engraving area.
Auto Tool Zero
With one mouse click, MX3 will automatically return to a predefined position, allowing you to easily change and calibrate your tools - a feature you will not find in a generic 3018 machine.
Laser Engraving
MX3 supports laser engraving as well! Simply replace the spindle with a laser module(not included). Take your craft work to another level with our 5.5W laser module.
Fun Assembly Experience
The assembly process is guided with our manual and Youtube videos. Save money buying a DIY kit and have fun putting the machine together.
Limitless Possibilities
MX3 is capable of crafting a wide range of commercial-grade products at an affordable cost, allowing beginners to unleash their creativity using professional CNC software. Our customers have started Etsy business with 3018-MX3 by making cool personalized items and art crafts.
PCB Milling  

Woodworking - customized cutting board, signs, dice box, phone stand etc.

Leather engraving, board game accessories

Personalized gifts
Basic Connection Diagram of MX-3 Controller Board
(Using TOSHIBA TBTB67S109 Driver Chip)
FAQ
Why Did My Credit Card Payment Fail?
Payment with credit card may fail because of bank authorization and fraud prevention systems. If you are having trouble making a payment via Credit Card, you may contact your card issuing bank or PayPal directly.
How Do I Know It Is Safe To Shop With You?
Sainsmart.com takes great pride in offering a safe and secure online shopping experience. The website is served 100% over HTTPS. We also respect your privacy and we're committed to protecting it. All transactions are processed securely by PayPal or Authorize.net's payment gateway. We never save your credit card information in any form. Please see our Privacy Policy here.
Is There Any Discount For Bulk/Volume Purchases?
Sainsmart provides discounts for bulk/volume purchase. Please fill out the form here for wholesale quotes.
Do You Ship Internationally?
Yes, we ship to over 80 countries. If you don't see your country as a shipping destination, please contact sale@sainsmart.com for purchasing.
Customer Reviews
Write a Review
Ask a Question
05/21/2021
Robert B.

United States
3018 MX3 CNC Great Machine for the Entry Level DIY'er
I received this CNC as a gift from my son, Brian, and my wife, Donna. I have to admit the learning curve was more than I anticipated but I'm getting the hang of it and having a lot of fun. The FB group have been a great help and the Sain Smart customer service is fantastic. I have to admit, right out of the box (my son assembled it for me to save me some time) I was able to do a few simple projects. I'm the type that likes to explore all the features and there are several. I've already added the laser module, (thank you Brian). Great machine for the hobbyist with lots of additional capabilities to explore.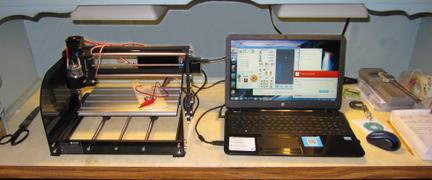 07/18/2019
William E.

United States
CNC Router 3018-MX#
I was really impressed with the quality of this kit. It was very well packaged and had zero damage upon opening package. All the parts were there. I was very impressed with the quality of all the parts. Even the many Socket Head Cap-screws appeared to be polished. Everything went together smoothly. (Buy I do recommend watching the videos and studying the manual before starting. One other thing: the manual as supplied is very small so I strongly recommend pulling up the pdf manual so you can zoom in on details.) I can't emphasize enough how great this kit is. All the parts are such high quality! Just take your time and refer frequently to the excellent instruction. The recommended software: Drufel CNS (free) and the expensive Mach3 CNC both work well after a pretty steep learning curve. More detailed instructions on the software would have been helpful. I'm going to stop here (for now) while I practice using the software and making a few parts. I will return with an addition or an additional review in a few weeks.
Great machine to learn how to use and get into cnc machining
Absolutely sturdy and well designed machine for those looking to start in cnc machining. Im going to play with this machine and possibly modify and upgrade it or buy another to add to my arsenal of machines in the shop. Worth the money.
Great product, well packaged and fun to build
This kit is fantastic, the packaging of the parts is excellent. I think what stands out for this kit though is the standard of the instruction booklet. Great visual guide to building the machine. It took me around 4 hours to have this built at a nice leisurely pace. The customer service of Sain Smart has been great, quickly responding to my questions on setting the machine up.
building my first small CNC machine
the assembly manual was great and very clear ! Mach 3 software looks not nice but works fine