Brand: SainSmart
Small-Spool TPU Flexible Filament 1.75mm 250g/0.55lb
Thermoplastic polyurethane (TPU) is a high strength flexible material. TPU belongs to the TPE class of thermoplastics
Specially formulated plastic with increased amount of flexibility, with rigid structure.
Resistant to oil, grease and abrasions
Weight: 250g per spool (approximately 0.55 lb)
Diameter: 1.75mm (+/- 0.05mm)
Shore Hardness: 95A
SPECIFICATION
Material : Rep-Flex TPU - Vacuumed Sealed with desiccant
shore hardness: 95A
Weight: 250g (approximately 0.55 lb)
Diameter: 1.75mm (+/- 0.05mm)
Roundness: 1.75mm (+/- 0.03mm)
Recommended extruder temperature: 195 - 230°C
Recommended platform temperature: 40 - 60°C
PRINTING TIPS
Recommended

for printers with direct drive extruder, 0.4~0.8mm Nozzles.
With Bowden extruder you might pay more attention to these tips:
 Print slow 15-30 mm/s Printing speed
 First layer settings. (Height 100% Width 150% speed 50% e.g.)
 Retraction disabled. This would reduce messy, stringing or oozing printing results.
 Increase Multiplier(Optional). set to 1.1 would help the filament bond well.

 Cooling fan on after first layer.
REFERENCE
WHAT'S IN THE PACKAGE
1x SainSmart TPU Flexible Filament 1.75mm 250g/ 0.55lb
Customer Reviews
Write a Review
Ask a Question
04/09/2020
Jonathan P.

United States
Prints great. . . Dont get gold
I actually struggled to figure out how many stars to give this product. I ordered the "gold." It is really easy to print no major issues, but the color looks less gold and more like a rubber dolls skin than anything else. So the tpu itself 5 star, the gold color. . . . Not 5 star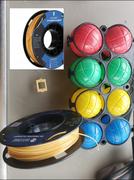 10/14/2020
Jason M.

United States
Love it
Prints great fast shipping!
09/30/2020
Jon F.

United States
Great Filament
Filament is great, shipping could be better, ordered 4 rolls and got them in 4 different packages over a few weeks.
09/07/2020
Gail T.

United States
Great results every time
I have the best prints with this product without any setup issues.
04/27/2020
Oliver P.

United States
The Only TPU I Will Use
Sainsmart TPU prints reliably and perfect every time for me with a bowden setup on an Ender 3 and CR-10S. The only thing I had to change was to print and install a flexible filament guide from Thingiverse. I have tried other brands and nobody comes close.
12/27/2019
Wilk D.

France
Very good product
I recommend you
08/16/2019
Sam J.

United States
Tpu Flexible Filament
Great product, very durable overall satisfied with my end results.