Save

$50.00
Brand: SainSmart
SKU:

101-91-319A
Creality CR-6 SE Leveling-Free FDM 3D Printer
Save

$50.00
Ease of Use: Much simpler assembly, plus with the auto bed leveling feature, this CR-6 SE brings you an unrivaled out of box experience to date.
A Quiet Beast: 32-bit silent motherboard, ATmega2560 control chip, and 24V 350W MeanWell power supply enable the CR-6 SE to heat up quickly and reduce noise consistently.
Professional Performance: Robust aluminum frame, dual lead screws and adjustable timing belt contribute to the smooth finish of the prints.
More Practical Add-ons: Flexible hotbed fixator, foldable filament holder, stepper motor cover...All you need is within reach.
Smooth Printing Experience: The newly-designed extruder on the CR-6 SE allows for a quick and painless filament feeding and the carborundum glass bed for better adhesion and easier removal. It is also equipped with the filament run-out sensor and resume printing function.
CR-6 SE, a workhorse designed for who defines creativity, makes 3D printing ever easier before. Much simpler assembly, plus with the auto bed leveling feature, it brings you an unrivaled out of box experience to date.
Customer Reviews
Write a Review
Ask a Question
12/27/2020
G. J. Bland

United States
WOW!
Open box to printing about 30 minutes. Much better than the Ender 3 PRO and V2, auto levelling, filament run out, dual Z axis steppers/lead screws, almost totally silent operation, touch screen display, thicker and more rigid frame, simple wiring loom. Great attention to detail throughout makes it easy to use, it even comes with decent tools rather than flat pressed steel spanners and a cheap scraper plus a 250g spool of filament rather than a bit in plastic bag.From the specs hotter nozzle-bed temperatures and a faster print speed are possible.My first print was flawless, perfect adhesion, no warping, excellent quality and easy to remove.
12/17/2020
Aaron K.

United States
The most hassle free FDM printer I've owned
Setup for this printer was exceptionally easy. Within about 10 minutes I was up and running on my first print. The auto level resulted in a perfect first layer on my first try. There was no manual bed leveling it was just a click of a button. Every other printer I've owned has required a lot of fighting with leveling before I got that first print going, but here a push of a button.My first print was one of the provided articulated dinosaur models. I had no issues with stringing and the print turned out perfectly. It came off the bed reasonably well, but I will definitely be looking into a wham bam print surface. Flexible beds have spoiled me.I just have to add. This is the quietst 3d printer I've owned. There is a primary fan that is no louder than a laptop fan. There is no additional noise while printing. I started up a print and got distracted while it heated up and didn't realize it had started until a good 20 layers in. I was sitting 10 ft away.Shipping was quick and the printer was very well packaged.
11/23/2020
Conquestdz

United States
Great print quality and easy set up.
I'm a novice when it comes to 3d printing. I got my son an Ender 3 v2 for Christmas and had so much fun figuring it out with him that I ordered the CR6 SE for myself. Setting up this machine is a snap compared to the ender 3. It truly took less than 10 minutes from opening the box to powering it up the first time. I did go over all of the already installed bolts and found a few that weren't tight enough, and the eccentrics on the rollers needed just a little adjustment to get the slack out. The automatic leveling is really awesome.My first print was the 3d benchmark boat from Thingiverse. I ran the stock profile in cura and the PLA that came with the printer. It came out excellent. Next up was a train for my little boy. Also excellent quality with stock settings. The video shows a wing section for a Eclipson model airplane being printed. This thin wall printing is supposed to be really challenging, but it's coming out awesome so far using the slicer settings recommended by Eclipsing.
09/18/2020
nathaniel K.

United States
Excellent printer
This printer began my foray into 3D technology and has been nothing short of astounding in terms of easy use and reliability. For me the biggest selling point as a novice was the automatic bed leveling, where compared to typical units on the market - this drastically reduces the "fiddling time" before making a print. The total time involved from out of the box to making prints was 30 minutes - about the time involved in setting up common inkjet printers. After several weeks of multitudes of prints it has performed flawlessly - just auto level and go! Remarkable product, and highly recommended for fellow users who would rather emphasize learning and creating 3D prints than constantly fiddling with the printer.
09/03/2020
JT T.

United States
CR-6 - Self Levelling Feature works
So far the printer works, and the most talked about feature works pretty well. The self levelling feature has been perfect for 3 prints so far and reduces the need for glue. The only negative is that there are no profiles for slicers other than Creality's. I am sure that will be corrected when the product is officially released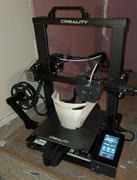 09/02/2020
GreyWolf

United States
So happy I found this machine, it's just what I was looking for.
Other than tightening bolts, I've had to do nothing to keep this machine running night and day for the past week. It's easy to use and does a nice job of printing anything. Look for the YouTube video by "Just Vlad" for a great review.
08/25/2020
Fred L.

United States
CR-6 SE first impressions
I can't say enough good things about the CR6-SE. It is my 6th 3D printer and the best by far. It was easy to setup up and the first print was perfect. I bought it specifically for the auto-level feature and it works very well. If you are new to 3D printing the instructions are very clear and support from Saismart is fast and helpful. If you are experienced user then you will be very happy with the print quality
08/21/2020
Robert S.

United States
run away bed heat!
I would like to give a great review. But I have not been able to print anything. The heated bed does not stop heating at set point. It continues to heat until it reaches 119 C then the control panel freezes. it does this just turning it on. not even trying to run a print. I have not heard anything from san smart yet. I'm sure they are busy. this is the fourth product I have bought from them/ and the only one to give me problems. I'm betting the heater is pluged into the wrong port. Something simple.
01/02/2020
Roshnee L.

United States
Worth every penny!
Beautiful quality. Quiet, consistent & fast shipping! Just ordered another one. Would love to order 3 more if the seller would give me a slight discount! Have no way of contacting the seller. ??
Innovative Leveling-free Tech

Get closer to Trouble-free 3D Printing

A leveled bed is a prerequisite for an accurate SD print. If the platform is not flat, 3D printing users will encounter problems such as nozzle clogging, poor adhesion and even scratching of printed parts.
Now all the issues are solved on CR-6 SE. Featuring an innovative leveling-free device which is designed with a smart pressure sensor to truly achieve hassle-free and intelligently automatic platform leveling, the CR-6 SE has been pre-leveled at the factory to make printing easier.
Assembly

Ease in Use When Out of Box

The new CR-6 SE comes in modules that are crafted with quality aluminum profiles. The device can be easily assembled within 5mins. Plug it in and switch it on, printing starts right out of box.
Modularized Nozzle

Simple Nozzle Maintenance

CR-6 SE has a universal modular nozzle, which is very easy to replace parts, thus saving more time and energy for nozzle maintenance. When the nozzle is disabled, users can replace the heating block, radiator, teflon tube or nozzle tip. More importantly, nozzles equipped with powerful cooling fans can increase heat dissipation by 30%.
PARAMETERS
| | |
| --- | --- |
| Molding technology: FDM | Nozzle temperature: ≤260℃ |
| File formats: STL/ORI/AMF | Operation: 4.3-inch colorful touch screen |
| Layer thickness: 0.1-0.4mm | Nozzle diameter: 0.4mm ( More options supported ) |
| Machine weight: 9.5kg | Resume print function: Yes |
| | |
| --- | --- |
| XY position precision: 0.01mm | Hotbed temperature: ≤ 110℃ |
| Motherboard: Silent motherboard | Supported materials: PLA/ TPU/ PETG/ ABS/ Wood |
| Print size: 235*235*250mm | Print mode: Online / SD card printing |
| Nominal voltage: 115/230V | Machine size: 442*462*540mm |
| Print resolution: ±0.1mm | Z-axis: Dual Z-axis |
| | |
| --- | --- |
| Nominal power: 350w | Filament sensor: Photoelectric sensor |
| Slioer software: CrealitySlicer/Cura/Reptier-Host/Simplify3D | Languages: Chinese/English |
| Print speed: 80-100mm/s | Leveling-free: Yes |
|  Output voltage: 24V |   |