Lifetime customer support

15-Day Money Back Guarantee
Brand: SainSmart
SKU:

101-63-RC4030
Genmitsu Offline Control Module with LCD Touchscreen for PROVerXL 4030
Compatible with PROVerXL 4030: This offline module is only compatible with Genmitsu CNC Router PROVerXL series controllers.
Easy to Use: This offline controller features an easy to read 2.4" Touchscreen display. How to use it? (Read)
Manual Control: Take control of your PROVerXL 4030 through this control module. It's easier to jog your machine on the fly and toggle your spindle on/off.
Easy File Access and Transferring: Your generated G CODE projects will be recognized simply by adding them to the SD Card.
No PC Offline Control: With the Genmitsu offline controller module, you can control the CNC router without connecting to a computer. Easily load your projects onto the included SD card and have them ready to go without the need of a dedicated laptop or computer.
Offline Control
With the Genmitsu Offline Controller module you can free yourself from having to dedicate a laptop or desktop running your PROVerXL. Easily Jog your XYZ Axis making it easy to set up jobs on the fly with easy access to toggling your spindle ON/OFF.
FUNCTIONS
Control X, Y, Z-axis moving
Control spindle/laser on/off Zero X, Y and Z axis
Adjust the PWM
Reset and resume the machine, unlock emergency stop switch
Touchscreen LCD Display
Comes with a 2.4" Touchscreen LCD Display that's easy to read and use.
Easy File Access and Transferring
Your projects can be directly saved and recognized by copying them to the included SD card making it easy to store your finished projects for future use.
Caution
Please note that Computer Control and Offline Control can't be used at the same time. Please disconnect the computer when using the controller.
Specifications
Software: GRBL controller, Universal G-code Sender
Input voltage: 12-36V
Spindle drive chip: MOSFET (recommendation 12~36V, current: within 10A)
Spindle PWM speed: Support
Support stepper motor: 12V, a maximum current of 2A or less is recommended within 1.5A and additional heat. (Any stepper motor 42, 57)
Laser engraving: Support

What's included
1 x Offline Controller
1 x 8P Cable (20.4" / 52cm)
1 x SD Card Adapter
1 x TF Card(1G)
How to use it? (Read)
Customer Reviews
Write a Review
Ask a Question
05/31/2021
Lukasz

Poland
Usable, with drawbacks
Controller is usable, it has all functions required to run cnc without computer attached (jogging, homing, setting home, z-probe). Drawbacks for me: - better touch acknowledge (beeper?) would be useful - there is thin red rectangle showing around "pressed" button, but it is difficult to see it through your finger, - when you select file and than cancel before starting processing (e.g. you accidentally tapped wrong file), cnc controller is reset - you loose your settings including home origin, which is at least ANNOYING and with job splited to more than 1 file (to change tool) if you cannot re-set properly home origin, you end with "de-synchronized" tool position and unable to finish job.
03/26/2021
Richard L.

United Kingdom
Awesome add on.
Excellent useful bit of kit. Saves .e having to take laptop out to shed. Very user friendly.
02/12/2021
Danny P.

United States
Offline controller
This thing is great. No need to tie up laptop. Use sd card then I can run cnc while designing on laptop. Saves me a lot of time. Rich screen is great.
01/24/2021
Marek W.

Poland
Offline controller for 4030
First impression so small like kids toy. But by price is acceptable. From first experience useful tool for computer free operation. I would suggest to add 20 step or even conti in Jog/Close button. Pressing 10 several times to make long move is frustrating. In Manual there is no explanation of PWM/SPN buttons also in Jog Menu. Other functions works fine no big issues so far. I am satisfied in general from this investment. Marek Poland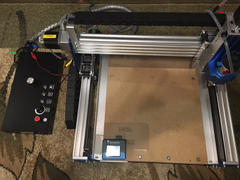 01/23/2021
Billy Y.

United States
happy to have
Very happy with not having to leave my laptop connected to the 3040. But I wish the connecting ribbon cable was a little more thought through and matched the round cabling and would love to see a mounting bracket for the controller to the machine. other than that I'm very happy
01/01/2021
James T.

United States
Frustrating
Frustrating! I haven't got it figured out yet!! However, I haven't given up!
12/30/2020
David H.

United States
Questionable to say the least
Received unit today. Attached to 4030xl. The controller can jog the spindle around. Setting zero is an issue. Currently, checking website for manual on new controller. Will update once it runs the unit as well as my laptop.
12/30/2020
WALKER O.

United States
Offline Control Module for a 4030 Sainsmart CNC
This control is built well and has a solid feel when holding it. No complaints about the control but the cable is too short , it needs to be twice the length.