Lifetime customer support

15-Day Money Back Guarantee
Brand: SainSmart
SKU:

101-91-313US-01
Creality Ender-3 PRO FDM 3D Printer
US Free Shipping
SainSmart x Creality
SainSmart Ender-3 PRO 3D printer is an upgraded version of the Ender-3 3D printer. Compared with Ender-3, Ender-3 PRO has redesigned aluminum extrusion for the Y-axis base to get better stability and printing quality. Note: The V4.2.2 is the standard board for the Ender 3 V2 and the Ender 3 Pro (since April 2020), it comes with TMC2208 stepper motor drivers; The V4.2.7 board comes with TMC2225 silent drivers and it is only available as a retail option, none of Creality's printers by default ship with the V4.2.7 bord.
Redesigned Y-axis
Redesigned with a much sturdier, 40x40 aluminum extrusion for the Y-axis base, which is wider than the Ender-3. This provides better stability and delivers a better print quality.
MeanWell Power Supply:It meets all the needs of fast heating and long-time 3D printing.
Superior Printing Surface: Removable and flexible magnetic printing bed
Tips about Levelling
If you happened to receive a severely bowed bed plate after unboxing, please reach our support team for a replacement. If it is a slight curve (±0.2mm), you could manage to fix it through the following steps.

Adjust the bed step-by-step according to the User Manual (see page 20). If the central part is uneven while the corners are flat, please try to level the bed on each of the four corners meticulously.
After finishing the steps on the manual, if it is still uneven, please try to print by adding raft in CURA.

Note: The V4.2.2 is the standard board for the Ender 3 V2 and the Ender 3 Pro (since April 2020), it comes with TMC2208 stepper motor drivers; The V4.2.7 board comes with TMC2225 silent drivers and it is only available as a retail option, none of Creality's printers by default ship with the V4.2.7 bord.
Resume Print
If electrical power is lost, prints can be resumed from the last layer when powered back on, saving time and reducing wasted filament!
Without Clogging
Our MK-10 [thread M6] extruder design greatly reduces the risk of a clogged nozzle.
Fast Heating
A high-watt density hotbed provides rapid heating, reaching its operating temperature in 5 minutes or less!
Large Build Volume
The 8.7 x 8.7 x 9.8" (220x220x250mm) build area allows you to create large and complex models.
Why Choose SainSmart?
Compared with other Ender-3 PRO 3D Printer at the market, SainSmart provides extra free parts to upgrade your 3D printer, which includes 2PCS MK8 Black Silicone Case, 4PCS 0.4mm MK8 Nozzle, 1PCS PC4*M6*Pneumatic Head. We believe this absolutely will give you the best printing experience. SainSmart also offers a 1-year manufacturer's warranty on 3D printers, so rest assured that your purchase is protected.
SPECIFICATIONS
| | |
| --- | --- |
| Model | Ender-3 Pro |
| Frame | Precise, high quality, aluminum extrusion. |
| Molding Tech | FDM(Fused Deposition Molding) |
| Printing Size | 220*220*250mm |
| Printing Speed | ≤180mm/s,Normal 30-60mm/s |
| Precision | ±0.1mm |
| Slice Thickness | 0.1mm-0.4mm |
| Nozzle Diameter | Standard 0.4mm,supports 0.2,0.3mm etc. |
| Nozzle Number | 1 |
| Hot Bed Temperature | ≤110℃ |
| | |
| --- | --- |
| Printing Mode | Online or SD card offline |
| File Format | STL,obj,amf |
| Slice Software | Cura, Repetier-Host ,Simplify3D |
| Power Supply | Input:AC 100-120V/6.8A 200-240V/3.4A 50/60Hz,Output:DC 24V |
| Total Power | 270W |
| Filament | PLA,ABS,Wood,TPU,gradient color,etc. |
| Filament Diameter | 1.75mm |
| Control Board Type | ATmega1284P |
| LCD Display | 12864 |
| | |
| --- | --- |
| Language | Chinese/English |
| Operating System | Windows XP/Vista/7/10, MAC、Linux |
| Motor | 42-34 motor Step angle 1.8° |
| Motor Driver | A4988 16 Subdivided |
| Resume Print | YES |
| Filament Detector | NO |
| Dual Z Axis | NO |
Customer Reviews
Write a Review
Ask a Question
10/13/2020
tony d.

United States
ender3 pro
My first machine printed right out of the box within 30 minutes after assembly print of the dog that came with it no problem love it best in class best out of class perfect affordable for first machine
10/09/2020
Andy B.

United States
Fantastic
Great value for the money on this one. Packing and shipping was great and showed they cared for safe delivery. Fantastic product once assembled. Assembly instructions could use a bit more refinement by adding more detail. This is my 3rd printer from over the years, and by far this one is the easiest to tune and adjust. Included software for the PC was pretty outdated, download a fresh copy of Cura. Best bed leveling helper https://www.thingiverse.com/thing:2987803
10/01/2020
Joseph W.

United States
WORST PRODUCT EVER
DO NOT BUY THIS PRINTER!! It's terrible! This product has been nothing but awful. My first and last purchase from this company till the day I die. Purchased online with plans to 3D print items needed for my personal hobby. Received and assembled. Had not produced a single successful/complete print from day one when received in July. Contacted customer support only to be given the run around. Each problem given To "Norah" in customer support was met with defending the product, and continuously assuring the product is/was fine and I the customer is the cause of the problem. After weeks of back and forth of emails and my continued displeasure of miss high and mighty "Norah" and the product of the company has produce I was finally offered to be sent another printer in exchange for what they then admitted faulty equipment I had been sold. Junk printer returned and replacement printer shipped. Received and assembled. "New" printer 100% exact same as first printer.,worthless sad excuse for a product that has STILL yet to produce one successful/complete print. With several failed prints I again contacted customer service and again greeted by "Norah" with blames of the problems being me, the customer, and not the product they produced, she even went as far to actually state "well this print worked for me so I don't know what your doing wrong". I've never been so completely displeased with a purchase in my entire life. This $200 product doesn't work and customer support couldn't care less. If you are considering purchase of this product Do yourself a favor and don't! DO NOT BUY THIS PRINTER!! It's terrible!
06/22/2020
Brian

United States
Cool little 3D printer
The printer was easy to assemble and instructions were pretty easy to follow. Some of the pictures were lacking in detail or explanation. The reason for 4 stars instead of 5 is because I had to tap 4 holes. Not a big deal since I have a tap set but if not I would have been up a creek. I do think there should be a test calibration print on the sd card. All in all I am happy with my purchase.
06/11/2020
Phil S.

United States
I am amazed at how great this printer is!
This is an amazingly excellent printer! I'm a first time 3D printer and was worried how challenging this might be to use and troubles I might have. I was so wrong! I had a few little things I needed to learn to get started but from day one I have successfully been printing all sorts of things. I have been printing almost 24 hours a day for over a month now and had almost no issues at all. I cannot say how impressed I am with the quality and consistency of the Ender-3 Pro. If you are debating on getting one, just do it now.
04/15/2020
Brodie

United Kingdom
Great service
It came to my house within 3 working days and I had it together and plugged in an hour later. I have only printed a few things but it is amazing quality prints for the £230 mark. Also included in the box was a uk adaptor which was a nice touch I wasnt expecting.
01/04/2020
don m.

United States
11/06/2019
Byron W.

United States
Nice Machine!
Bought the Ender 3 Pro.. My 1st 3D Printer... Pretty impressed with the machine. Printing hold downs for my 3018 CNC machine now
09/11/2019
eric c.

United States
First 3D printer and it's awesome
Was really wanting a 3D printer to tinker around with and found sainsmart with really good reviews, good price and bonus accessories. I ordered it and the shipping was super fast got it in 3 days and put it together pretty quick and easy then was off printing. Thanks Sainsmart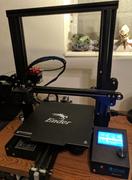 Great product & smooth purchase experience
Ordering online was extremely easy and quick... shipping was fantastic.. arrived in less than 2 days from when I ordered it! Price was lowest around!