Creality3D Ender-3 PRO 3D Printer
brand: SainSmart
SKU:

101-91-313US
New Version
Ender-3 PRO is an upgraded version of Ender-3, comes with MeanWell power supply and new platform sticker, also redesigned the aluminum extrusion. The Ender-3 PRO boasts the same outstanding performance as the Ender-3, upgraded components make Ender-3 PRO more stable, durable and easier to operate.
Superior Printing Surface
A new state of the art "C-MAG" magnetic sticker is designed for Ender-3 PRO, it is completely removable, flexible and can better adhere to the platform. Once the model is finished printing, remove the magnetic upper from the lower and bend or flex the print surface to watch the model effortlessly pop off the printing surface.
Meanwell Power Supply
We adopt the Meanwell power supply, which is produced by the listed company with mature technology, and it meets all the needs of fast heating and long-time 3D printing. The printer is shielded by its power supply from voltage spikes and power outages. If electrical power is lost, prints can be resumed from the last layer, saving time and reducing waste.
More Stable
Redesigned with a much more sturdy, 40x40 aluminum extrusion for the Y-axis base. This provides stability for the printing process, leading to better print quality.
Enriched Accessories
It must be amazing that more useful accessories included in our package. Extra parts can save you time while you really need, also cost-effective.
$259.00
$399.00
Save

$140.00
FREE EXPRESS SHIPPING
WHY CHOOSE SAINSMART?
Compared with other Ender-3 PRO 3D Printer at the market, SainSmart provides extra free parts to upgrade your 3D printer, which includes 2PCS MK8 Black Silicone Case, 4PCS 0.4mm MK8 Nozzle, 1PCS PC4*M6*Pneumatic Head. We believe this absolutely will give you the best printing experience. SainSmart also offers a 1-year manufacturer's warranty on 3D printers, so rest assured that your purchase is protected.
DESCRIPTION
SainSmart Ender-3 PRO 3D printer is an upgraded version of the Ender-3 3D printer. Compared with Ender-3, Ender-3 PRO has redesigned aluminum extrusion for the Y-axis base to get better stability and printing quality.
 SPECIFICATION
Model
Ender-3 Pro
Frame
Precise, high quality, aluminum extrusion.
Molding Tech
FDM(Fused Deposition Molding)
Printing Size
220*220*250mm
Printing Speed
≤180mm/s,Normal 30-60mm/s
Precision
±0.1mm
Slice Thickness
0.1mm-0.4mm
Nozzle Diameter
Standard 0.4mm,supports 0.2,0.3mm etc.
Nozzle Number
1
Hot Bed Temperature
≤110℃
Printing Mode
Online or SD card offline
File Format
STL,obj,amf  
Slice Software
Cura, Repetier-Host ,Simplify3D
Power Supply
Input:AC 100-120V/6.8A 200-240V/3.4A 50/60Hz
Output:DC 24V
Total Power
270W
Filament
PLA,ABS,Wood,TPU,gradient color,carbon fiber,etc.
Filament Diameter
1.75mm
Net Weight
6.9kg
Printer Size
440 x 440 x 465mm
Gross Weight
8.9kg
Package Size
595 x 495 x165mm
Control Board Type
ATmega1284P
LCD Display
12864
Language
Chinese/English
Operating System
Windows XP/Vista/7/10
MAC、Linux
Motor 
42-34 motor    Step angle 1.8°
Motor Driver
A4988 16 Subdivided
Resume Print
 YES
Filament Detector
 NO
Dual Z Axis
 NO
WHAT'S IN THE PACKAGE?
1x SainSmart Ender-3 PRO 3D Printer
1x Toolbox (testing filament included)
1x Screw Accessories Box
2x MK8 Black Silicone Case
4x 0.4mm MK8 Nozzle
1x PC4*M6*Pneumatic Head
Customer Reviews
01/04/2020
don m.
United States
11/06/2019
Byron W.
United States
Nice Machine!
Bought the Ender 3 Pro.. My 1st 3D Printer... Pretty impressed with the machine. Printing hold downs for my 3018 CNC machine now
09/12/2019
eric c.
United States
First 3D printer and it's awesome
Was really wanting a 3D printer to tinker around with and found sainsmart with really good reviews, good price and bonus accessories. I ordered it and the shipping was super fast got it in 3 days and put it together pretty quick and easy then was off printing. Thanks Sainsmart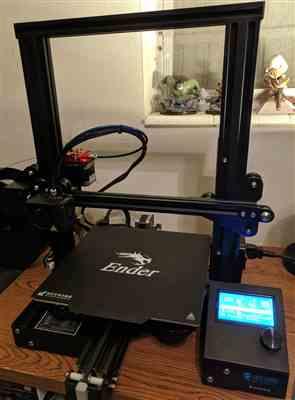 04/27/2019
Teresa P.
United States
Great product & smooth purchase experience
Ordering online was extremely easy and quick... shipping was fantastic.. arrived in less than 2 days from when I ordered it! Price was lowest around!
04/03/2019
William D.
United States
Love it!
Great print quality, perfect for my needs as a student. My only complaint would be there seems to be a low spot in the center of my build plate. I plan on ordering the glass build plate.