Brand: SainSmart
SainSmart x Creality Ender-3 3D Printer
$176.00
$299.00
Save

$123.00
US Free Shipping
Semi-Assembled & Cost Effective By eliminating the high retail markup, SainSmart is able to offer a sensible package with unrivaled quality in the entry-level space.
High Precision & Noiseless The CNC-machined Y-axis mounting slot ensures highly precise positioning of the printer head. V-slot POM (polyoxymethylene) wheels allow the nozzle to glide smoothly and silently.
No Clogging or Warping Our patented extruder design greatly reduces the risk of a clogged nozzle. There's no need for printing tape or glue due to the incorporation of a new viscous platform sticker.
Fast Heating & Resume Print Feature The heated bed can reach its operating temperature in just five minutes. The printer is shielded by its power supply from voltage spikes and power outages. If electrical power is lost, prints can be resumed from the last layer, saving time and reducing waste.
Tips: Frequently Bought With Tempered Glass Heated Bed & SainSmart PRO-3 PLA Filament To Get The Best Printing Experience.
Simplify3D, works with Windows, Mac, and Linux operating systems. Supports .STL and .OBJ file formats
Ender-3 3D Printer
The Ender-3 is designed specifically for hobbyists on a limited budget. Our most affordable 3D printer, the Ender-3 boasts the same outstanding performance as the CR-10 in a compact, affordable package.
Home & School Use
Being an entry-level 3D printer, the kit is designed to invite imagination and innovation to children, students, and hobbyists. Its low cost expands its availability to school and home settings, while still providing a high-end print quality not found in low-cost printers!
Top Quality Control
The entire assembly consists mostly of only injection molding, CNC machined, and extrusion manufactured parts, ensuring reliable and consistent operation, matched with the quality for every user! The cartesian design, based on the CR-10, provides the same eloquent, robust, and precision construction ready for DIY assembly!
Full Filament Compatibility
The standard brass nozzle allows printing with most types of 1.75mm 3D filaments including PLA, ABS, PETG, and of course the renowned SainSmart flexible TPU filament.
Characteristics
Resume Print
If electrical power is lost, prints can be resumed from the last layer when powered back on, saving time and reducing wasted filament!
Without Clogging
Our patented MK-10 extruder design greatly reduces the risk of a clogged nozzle.
Fast Heating
A high-watt density hotbed provides rapid heating, reaching its operating temperature in 5 minutes or less!
Large Build Volume
The 8.7 x 8.7 x 9.8" (220x220x250mm) build area allows you to create large and complex models.
Tips about Levelling
If you happened to receive a severely bowed bedplate after unboxing, please contact us immediately for a replacement. If it is a slight curve (±0.2mm), you could manage to fix it through the following steps.
Adjust the bed step-by-step according to the User Manual (see page 20). If the central part is uneven while the corners are flat, please try to level the bed on each of the four corners meticulously.
After finishing the steps on the manual, if it is still uneven, please try to print by adding raft in CURA.
For further technical support, please contact us at support@sainsmart.com.
DESCRIPTION
SainSmart's latest Creality3D series printer is specifically designed for hobbyists, tinkerers, and the curious. As the premier entry-level 3D printer on the market, the Ender-3 kit includes everything you need to learn about 3D printing. Brought to you by the creators of the CR-10, the Ender-3 delivers professional-grade results in an affordable package. Get your hands on one and unleash your creative side!
WHY CHOOSE SAINSMART?

As an industry leader since 2010, SainSmart offers a 1-year manufacturer's warranty on 3D printers, so you can rest assured that your purchase is protected.
Contact us for professional solutions recommendations and expect a qualified response within one business day. Buy with confidence!
SPECIFICATION
| | |
| --- | --- |
| Modeling Technology | FDM (Fused Deposition Modeling) |
| Printing Accuracy | ±0.1 mm |
| Maximum Print Size | 220 x 220 x 250 mm (8.7 x 8.7 x 9.8") |
| Nozzle Diameter | 0.4 mm |
| Layer Thickness | 0.1 to 0.4 mm |
| Nozzle Speed | 180 mm/s |
| Compatible Filaments | 1.75 mm PLA, TPU, ABS, PETG |
| Operating Systems | Windows, Linux, macOS |
| Layer Thickness | 0.1-0.4mm |
| Compatible Software | Pro/E, Solidworks, Siemens UX, 3DS Max, Rhinoceros 3D |
| Compatible Formats | .stl, .obj, .mpt, .mpf, .nc |
| Ambient Temperature | 5 to 40° C (41 to 104° F) |
| Nozzle Temperature | 255° C (491° F) |
| Heated Bed Temperature | 110° C (230° F) |
| Connectivity | USB 2.0 connection, SD Flash |
| Power Source | AC 100-265V 50-60Hz |
| Overall Size | 440 x 410 x 465 mm (17.3 x 16.1 x 18.3") |
| Shipping Weight | 8 kg (17.6 lbs) |
| Auto Resume Print | Yes |
| Spool Holder | Yes |
| Hot End | MK10 |
WHAT'S IN THE PACKAGE?
For the 3D printer ONLY
1x SainSmart Ender-3 3D Printer
1x Toolbox (testing filament included)
For the 3D Printer+Simplify3D License Bundle Kit
1x SainSmart Ender-3 3D Printer
1x Toolbox (testing filament included)
1x Simplify3D License Key( Send by Email)
Customer Reviews
Write a Review
Ask a Question
08/24/2020
JOHN L.

United States
Creality3D Ender-3 3D Printer
Very easy to assemble but if you go to the Creality web site you will find a better set of instructions, which I downloaded and printed out.it is 14 pages long but is you can use two sided printing it is down to just 7 pages. The test print that came on the SD card took 5 hrs and 33 minutes to print but the detail was amazing. Just go through the steps for leveling the bed and yuou will not have any problems.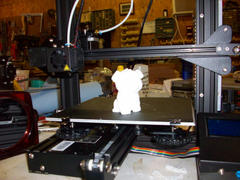 02/06/2021
Jolon A.

United States
No buyers remorse
The printer works as advertised. I printed out some upgrades. And ordered a few better parts. But for the price I paid it's ok to have to get some extra stuff.
12/17/2020
MIke B.

United States
Great Price Great Service
I had a great experience ordering through Sain Smart. This is my second Ender 3. It came in perfect condition and the shipping was very quick. When I first received it, I immediately did quick power up test with the control panel connected. The power supply, main board, control panel and factory connected peripherals all powered up and operated as intended. After ordering I emailed about some questions I had and customer support responded with in 24 hours. This whole process happened a week before christmas. I look forward to ordering through Sain Smart in the future. I would love to see more all metal hot end and extruder upgrade parts in their product list, but I understand that there are contractual boundaries to business relationships.
12/10/2020
Stan M.

United States
Ender-3 3D
excellent product will buy again
12/10/2020
Stan M.

United States
Ender-3 3D
Awesome experience. Product packaged very good.
12/10/2020
Kevin S.

United States
Solid Printer
This is now my 4th Ender 3 and my 3rd SainSmart machine. I have had very positive results from the machines and will continue supporting them.
11/10/2020
Mark B.

United States
Creality printer experienced
First Ender 3, started with and Ender 3 Pro, then a CR10s Pro. Modified and upgraded the original printers. This will be modified with the spare Swiss Micro hot end, and drive system from 3 Pro for TPU material straight way. Ender 3 Pro getting a Swiss Micro direct drive with pancake extruder motor, so it can move full height and not crash the hot end drive. Love the modifiability of these printers. Great starter and learning machine, the basic are all there and the You Tube support is extensive. Great first timer machine.
08/21/2020
Jim R.

United States
Would it **** them to include real instructions?
I fought for hours against the unhelpful and ambiguous pictures, together with the totally missing text instructions, to try to assemble the machine before I finally realized that I needed to search YouTube for help, where I found mention of more complete instructions on the included SD card. There was no mention of this in the included, printed, "Quick Start" manual -- that would have been nice to know before I reached the point where I was ready to pitch everything out the window.
06/30/2020
Kevin C.

United States
Ender 3 Pro
Great for the beginner to learn to 3D print. Good quality machine that will do many projects for the experienced as well.
12/02/2019
Nick B.

United States
Tough little machine
I own 4 of these printers. They are work great once you figure out each of their little quirks. I use each of them on a constant basis for building props and other little doodads for around the house. They are the work horses of my shop and I couldn't be happier. The build plate size is pretty on par with other printers. The full size of the printer is nice and fits nicely on a sturdy shelf or desktop. As for the position of the spool holder, I have mine coming off of the size and I have found that to be less stressful on the filament. There are tons of upgrades and things you can print out to make your printer unique. If you are looking for a sturdy and well built printer, this is what you need.