Brand: Genmitsu
SKU:

101-60-3020PROMAX-A
3020-PRO MAX CNC Router Machine for Metal Carving and More
Free Shipping
Enhanced design and increased Z Height of 72mm with the Genmitsu 3020-PRO MAX. The all-metal spindle holder and 300W spindle makes metal carving easier, ideal for an endless variety of drilling, and carving operations on various metals
300W

Spindle

72mm

Height Aluminum Z-Axis

4040 V-Slot

Extrusion Profile

300X200X72(mm)
11.8x 7.9x2.8 (in)

Engraving Area
High Strength
With the all-aluminum body, high rigidity spindle holder and new linear guide structure, the 3020-PRO MAX can easily mill on a wider range of materials with high precision, the increased speed would not compromise the carve.
Redesigned Control Board
Still based on open-source Grbl v1.1, the redesigned control board provides more operational capability and extensibility for the 3020-PRO MAX CNC machine. It integrates the interface for offline controller, XYZ axis limit switches, emergency stop switches, Z-probe and more. Also, it supports the laser engraving (Need to order the laser module separately).
Integrated Scale Aluminum Platform
One-piece machined and molded aluminum design ensures flatness and strength of the platform. Integrated scale design is convenient for material positioning. The platform compatible with most of the CNC clamps on the market.
Easy to Upgrade
Although our standard spindle can already meet the requirements of most projects, the control board and spindle holder still support the upgrade to 400W spindle, making the 3020-PRO MAX more powerful. Also, more and more upgrade accessories will come soon!
Customer Reviews
Write a Review
Ask a Question
03/13/2023
Bin L.

United States
lots of ball come off from some where near by motor
its happened on my first run
After checking your photos, the balls are coming from the XZ assembly kit. The part may be damaged during transit. In addition, we are sorry that we still don't have a plan to introduce an upgrade 3020. It seems that the reviewers you saw may not be confirmed with us. In view of the problem with your machine, we would suggest you return it to the seller and get a brand-new replacement. If you don't want to return it, we are happy to ship you the XZ assembly kit to help to replace it. If so, please send us your order number to validate so that we can submit the warranty request for you.
09/10/2022
Andrew C.

United States
Great value minus the backlash
I wanted something that was capable of machining metal right out of the box with enough rigidity for making tiny details. I am currently making jewelry scale metal contours on 26 gauge aluminum and copper sheet stock using a 1/64th bit endmill. The biggest problem I initially had was getting my Fusion360 designs output to a CNC controller software. The Candle CNC software ended up causing some kind of compatibility error where a simple manual axis jog would result in an indefinite axis move requiring use of the emergency stop switch. I also had this problem with UGS but not with Easel or Openbuilds. I used up the free Easel trail so now I use Openbuilds. The issue I have now is excessive Y-axis backlash. After a few weeks of use, the bed now has visible/audible Y-axis play just by pushing the bed back and forth with my hand. It was fine when I first bought it but now it's so bad that it makes loud "thunking" noises during a milling job. I can't find any specific replacement parts listed for the 3020 that would fix this issue so I may end up having to come up with a third party solution. I just sent Sainsmart support an email regarding this problem so we will see if/when they respond.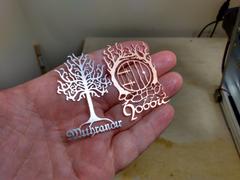 08/03/2022
Wayne

United States
Brilliant machine a must buy if you are looking for a CNC desktop Milling / Engraving Machine
|The media could not be loaded.|What can we say about the Genmitsu 3020-PRO MAX CNC Milling / Engraving Machine for Metal, Wood.It's Brilliant machine a must buy if you are looking for a CNC desktop Milling / Engraving Machine.This is my first ever CNC machine and I had it up and running in 10-15 minutes so happy with the quality you have to put the top frame and fit main board wire it up and then some small set up work. Mine was 100% true and level out the box so I had my first job milling in less than 30 minutesso an easy 10/10