SainSmart Genmitsu CNC Router 3018-PRO DIY Kit
brand: SainSmart
SKU:

101-60-280PRO
3-Month Carveco Maker Subscription Is Included (a $45 Value)
Please subscribe to our newsletter so that you can receive the FREE 3-Month Subscription Link after ordering the CNC router.
Premium Power Adapter
Genmitsu 3018-PRO has brought safety improvements to the power adapter, with CE/FCC/UL-approved. Strong built for heavy-duty and long usage performance, making input/output stably and ensure complete protection for you and your machines even when work for a long time or work with a laser module.
Integrated
With an integrated mainboard and custom software, communication between the software and hardware is seamless by design.
Software
The Genmitsu uses Grbl, high performance, open-source software for controlling movement, and runs on Arduino. Its dependability and simplicity make Grbl an industry standard, so there's no lack of support and resources available when you get stuck.
Versatile
Capable of cutting all types of plastics, soft aluminum, woods, acrylics, PVCs, and PCBs, the Genmitsu can be used on a wide range of projects and materials.
Note: This CNC Router does not valid with other codes or discounts.
$249.99
$269.90
Save

$19.91
The Genmitsu CNC
Designed for the absolute beginner, the Genmitsu is a great tool for starting CNC learning. If wood-working is your hobby, you can use it to add features like curved words and exquisite patterns. If you are a student just learning CNC, it can help you engrave models which you are coding and designing.
Versatile
The Genmitsu is capable of cutting all types of plastics, soft aluminum, woods, acrylics, PVCs, and PCBs, and a wide range of other materials. The effective engraving depth is 1.8 inches. You will find the SainSmart Genmitsu is an excellent self-teaching tool which allows you to try your DIY ideas on an inexpensive platform without the risk of damaging expensive equipment.
New Power Adapter
The new power adapter has been redesigned, with CE, FCC & PSE certifications, that ensure complete protection for you and your machines. The built-in smart integrated circuit design keeps the power adapter going against overheat on the unit and charging stably.
Features
Offline Control
With SainSmart offline controller module, you can control the CNC router without connecting to the computer. The CNC router can be placed wherever you want, such as garage and workshop.
Redesigned Mainboard
Comes equipped with ABS case and fan, the performance and stability of the new mainboard have been greatly improved.
Open Source
It's built on Arduino and Grbl (both open source) support, tutorials, additional training, and new ideas to try are plentiful and easy to find elsewhere online.
Laser Module Available
If you are an experienced CNC engraving enthusiast looking for an upgrade, you can add the laser module kit to the machine. With this module, it can absolutely give you different ways to unleash your creativity. (Purchase here)
DESCRIPTION
Designed with the absolute beginner in mind, the Genmitsu is an excellent self-teaching tool which allows you to try your ideas on an inexpensive platform without the risk of damaging expensive equipment. Since it's built on Arduino and Grbl (both open source) support, tutorials, additional training, and new ideas to try are plentiful and easy to find elsewhere online. Genmitsu 3018-PRO CNC router kit is the latest model and it can provide better stability.
Genmitsu CNC 3018PRO is also a hobby starter kit milling machine for education. This desktop CNC engraving machine also can help you to take your woodworking to the next level.
SPECIFICATIONS
Effective Engraving Area: 300 x 180 x 45 mm(11.8 x 7.1 x 1.8")
Frame Size: 400 x 330 x 240 mm(15.7 x 13.0 x 9.4")
Frame Material: Aluminum
Axis Bracket Material: PF
Z-Axis Component Material: Nylon
Spindle: 775 motor, 12V, 3000 RPM; 24V, 7000 RPM; 36V, 9000 RPM
Rated power: 60W; Maximum power: 120W
Step Motor: 1.3 A, 12V, 0.25 Nm torque (2.2 in lb)
Drill Bits: Tip 0.1 mm, 20 degree, Diameter 3.175 mm
Supported OS: Windows XP, Windows 7, Windows 8, Windows 10, Linux, Mac OS
Software: Grbl control(Candle)
Power Supply: 24V/4.75A
TIPS
WHAT'S IN THE PACKAGE
Standard Kit
1x 3018 PRO DIY Router Kit
1x Extension Rod with ER11 Collet (3.175mm)
4x Plate Clamps
10x CNC Router Bits (Cutting Angle: 20 Degree; Shank Diameter: 3.175mm; Tip Diameter: 0.1mm)
1x English Manual
1x Offline Controller
| | | | | |
| --- | --- | --- | --- | --- |
| | | | | |
| | Genmitsu 1810-PRO  | Genmitsu 3018-PRO  | Genmitsu 3018-PROVer  | Genmitsu 3018-MX3  |
| Assembly Time | 2 hours | 2 hours | 15 minutes | 2 hours |
| Working Area | 180x100x45mm | 300x180x45mm | 300x180x45mm | 300x180x45mm |
| Control Software | GrblControl(Candle) | GrblControl(Candle) | GrblControl(Candle) | Mach3/DrufelCNC |
| Driver Chip | 4988ET | 4988ET | TB67S109 | TB67S109 |
| Home and Limit switches | x | x | ✓ | ✓ |
| Emergency-Stop | x | x | ✓ | x |
| Z-Probe | x | x | ✓ | ✓ |
| Acrylic Baffles | x | x | ✓ | ✓ |
| Comes with Offline Controller? | ✓ | ✓ | ✓ | x |
| Switchable to Laser Module? | ✓ | ✓ | ✓ | ✓ |
Customer Reviews
Write a Review
Ask a Question
Amazing results...
I use this machine as I'm developer and use it as lab gadget found this amazing.. I did mostly of my this work.. https://www.youtube.com/watch?v=FrGPu49nKsw using this machine... thanks to sainsmart...
05/16/2020
Larry C.
United States
SainSmart Genmitsu CNC Router 3018-PRO DIY Kit
Enjoyed put this together, very easy.
05/05/2020
Troy D.
United States
Amazing PCB engraving results!
I already wrote a review, but I thought I would do another one to share how absolutely amazing this CNC machine is at engraving PCBs (even with stock spindle). The track separation is superb, and there were absolutely no burred edges on any of the tracks. I did not need to sand the face of the board to remove any rough burrs. I am truly satisfied with the performance and accuracy of this machine. I have attached a picture of a test engraving, this was a single pass run so excess copper wasn't removed between traces but it still came out fine.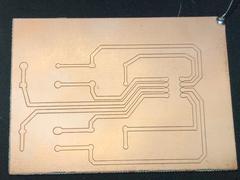 04/30/2020
Troy D.
United States
Awesome 3018 CNC Router
I bought this CNC after watching numerous YouTube video reviews of the machine. The 3018 platform seems to be quite popular with several versions available from numerous merchants online. However, I went the Sainsmart 3018 Pro because as a someone new to CNC routing and engraving I figured it would be best to go with an established company that can provide premium support and accessories for the machine. Additionally, they also have local stock in the US a definite plus, as it significantly reduced the shipping and delivery times compared to some of the cheaper machines available online that ship directly from China. Setup was quite easy as I had watched quite a few YouTube videos of other users unboxing and setting up their 3018 Pro before I got mine. I am mainly interested in PCB engraving so the stock spindle probably will have to be replaced with one that has a higher RPM. I have two suggestions for Sainsmart, firstly, I see that they have a higher RPM 300W Spindle available, however this is not a easy drop in replacement (at least not for a beginner). It would have been extremely thoughtful of Sainsmart if they also sold a 52mm collar for the 300W spindle that can work on the 3018 Pro Z axis without the need to build or 3D print a collar that will fit on the existing mechanism. My other suggestion is, instead of shipping the CNC with a sample of similar engraving bits, a mixed assortment of bits and end mills would have been better. Overall I am quite satisfied with my 3018 Pro.
11/24/2019
Jeff E.
United States
3018 Pro
Excellent very easy to assemble and use
11/12/2019
Matt A.
United States
08/29/2019
Ronald C.
United States
Assembly
Very easy to assemble, parts were all complete and directions clear. Everything checked out when first fired up. Good job!
Very nice DIY entry into the CNC arena - Reasonable price - great Customer Service, and it Works!
I was unsure of where to start in the field of CNC (Computer Numerical Control) Routers. I had been fascinated by the projects and videos of different setups in action but was always a little fearful of the high initial cost associated with them. Notice I said Associated. After a more serious look into purchasing, I found that high initial cost was no longer a concern. The cost of entry into this field has been reduced to the level that anyone can afford to take the plunge. Diving in via the Amazon portal, using the Sain Smart Official Amazon store as my entry point increased my confidence in making the purchase. Delivery was exceptional; one day in my case. Years of anticipation melted away in 24 hours. I laid out an old towel on the trusty Kitchen counter; the place that many new adventures have started. The parts needed to assemble the base were inspected, parts bags identified, and the fun began. All tools needed to assemble the machine were included. The only things I provided were Alcohol and Q-Tips to clean the metal shavings from the ends of the aluminum side pieces and X-Axis rails; not necessary but I wanted to relish the time putting it together. Using the booklet as a guide, I loosely assembled the base, then moved onto the Aluminum work area, pillar blocks (Sliders) and drive mechanism to move the work area forward and back (Y-Axis). Then the back and forth (X-Axis), up /down (Z-Axis) components and spindle were assembled. Next, everything was squared up and the hardware snugged. Electronics added, wiring installed, lead dressing attended to and the project was ready to test. Computer software was next. After an easy installation, testing was next and went off without a hitch. In no time, I had the SainSmart Logo engraved on a piece of scrap wood. I joined the SainSmart Genmitsu CNC Router Facebook Group and started learning from the experiences of others. When I ran into a little problem, I used the Contact Us form on the sainsmart.com web page. My question was promptly addressed, a replacement part dispatched and later a follow-up. Quick, efficient, friendly support. No Hassle. A nice beginning with a company who truly seems to care about the customer.
08/21/2019
Paul F.
United States
Fantastic CNC for beginners!
To set the stage, I have always been intrigued by CNC machines but have never touched or assembled one. I AM, however, very familiar with 3D printers and the overall mechanics seemed similar. For the price, the SainSmart CNC3018 Pro seemed worth trying out to gain exposure to the hobby. I have been absolutely blown away with the quality construction and ease of use! Assembly - assembly was easy; just take your time and watch one of the assembly videos available on YouTube. The included manual is straightforward, but watching the video helped me determine little things (like which way the frame pieces needed to be oriented to get the bearings in the correct places, etc.). The manual reminded me of an Ikea furniture assembly guide - lots of pictures! There were metal shavings from cutting the aluminum extrusions and some of the threads on the bolts were dirty, so I used canned area to remove all of the shavings and pre-******* the bolts into the threads. From opening the box to powering on the machine took me about 1 1/2 hours. Build quality - this thing is sturdy! When I opened the box and saw the layers of parts, I was terrified that it would feel flimsy and be difficult to install. I took my time and it feels like a much more expensive piece of equipment. There are plenty of CNC3018 options out there, but SainSmart seems to have great quality control and really cares about customer experience. I think my only suggestion would be to include a couple extra pieces of assembly hardware (bolts, T-nuts, etc) just in case anything is damaged or missing, but I had everything I needed for a good assembly. Usage - as I mentioned, I have NEVER used a CNC before and within 10 minutes of having the machine assembled I started engraving the test files. You bring down the Z-axis (bit tip) level with your material, select the gcode file (the test files are all .nc extensions), and it gets started. Since there are no limit switches, it considers it's starting point "home", so it is easy to just move to a clean piece of wood to start another model. I haven't figured out making my own gcode files, but that certainly isn't anything to do with the machine, and as you can see in the pictures, it accurately carves the test files. Overall this thing is awesome. I already ordered the offline controller & laser and I hope to experiment with those soon. For now it is time to learn Easel so I can make my own files. Happy to help if anyone has questions about this CNC machine.
08/20/2019
NICHOLAS W.
United States
Works as expected
Router works great! Easy to learn and great customer service!
Software Links

LaserGRBL The best free GCode sender for DIY Laser Engraver. LaserGRBL is able to load and stream GCode path to arduino, as well engrave images, pictures and logo with internal conversion tool. Can click here to buy a laser module.

LightBurn is a premium version of LaserGRBL which allows you powerful tools for editing, adjusting the layout and controlling your laser. LightBurn is a native application written for Windows, Mac OS, and Linux. Can click here to buy the LightBurn GCode License Key.

Easel is the all-in-one software solution for 3D carving machines. Designed by Inventables, Easel is the easiest way to get started in the world of 3D carving.

Fusion 360 Integrated CAD, CAM, & CAE software for everyone. Animation. Access Anywhere. Easy Collaboration. Try It Free. Integrated Design Tools. Next-Gen 3D CAD/CAM. Fabrication.